Human beings, the unpredictable element in simulations
Nature and Technology
April 20, 2021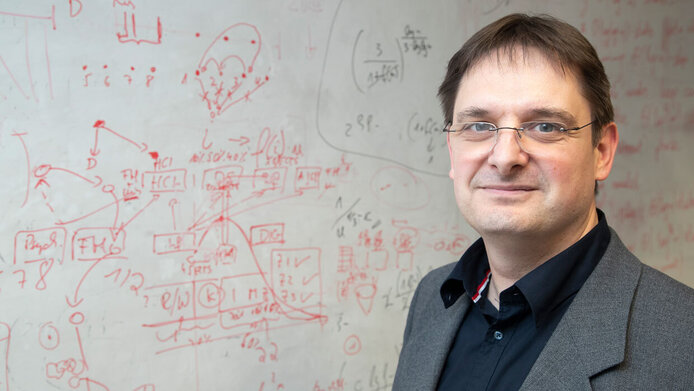 Whether it is climate and traffic research or – as for the past year – the fight against a global pandemic, it will inevitably involve computer simulations. The world has become too complex to manage without the enormous calculating power of computers. In the coronavirus pandemic, the work of researchers who have specialised in this field has moved into the public limelight and has made them frequent invited guests in the media. This does not come as a surprise, because their simulations form an important basis for political decisions such as relaxing or tightening measures to contain the pandemic. Robert Elsässer, a mathematician and computer scientist at the University of Salzburg, is one of those experts who are calculating what effect certain measures will have on the infection incidence.
Viruses behave like information
Robert Elsässer and his team have been investigating the spread of diseases in large populations for several years. As an expert in algorithms, he develops methods to solve distribution problems in dynamic systems. One fundamental problem in large networks is the distribution of information. And in this respect there is a surprising similarity: the spread of viruses in a population often resembles the way in which information spreads in a network. In the fight against pandemics, science can profit from this fact. As early as back in 2004, Elsässer's team began researching the spread of flu-like processes, which showed astonishing similarities to the real-life medical data from the Robert Koch Institute. When Covid-19 broke out a year ago, the researchers were able to use these results as a basis and after a few adjustments – such as additional types of infection – they were able to make the first data available quickly.
Basic research – the foundation for rapid results in the pandemic
This example shows that many scientific developments in this year of the pandemic have been achieved so quickly not only because the pandemic has been a focus area for researchers and funding, but even more so because basic research has been preparing the scientific ground for decades. The first vaccine against Covid-19 was approved at the end of 2020, only months into the global spreading of the pandemic. But the underlying research for mRNA vaccines of that type had gone on for decades and was originally intended to serve goals completely different from antiviral vaccines – namely a vaccine against cancer. A promising drug against Covid-19 from the Viennese company Apeiron is currently going through clinical testing and is showing good results. The founder of Apeiron, the molecular biologist Josef Penninger, started basic research on the development of this antiviral drug 20 years ago.
Tightening of restrictions in Vienna
How does the simulation expert see the current situation in Vienna? In the spring, after a year of social distancing, working from home, permanent worries for families about childcare and financial worries, new hopes arose for the exhausted population. On 21 March 2021, Vienna's City Councillor for Health, Peter Hacker, announced his intention to allow outdoor dining at the end of March despite rising infection figures. "We can't keep the population locked up any longer," he said. But, as so often in this last year, things took a different turn. Intensive care units in hospitals in eastern Austria were working at full capacity, the government put on the emergency brake and decided to tighten measures, at least for the east of Austria. On 24 March, the new measures were announced: these involved compulsory wearing of FFP2 masks in all enclosed public spaces, testing in companies, more working from home, closing of retail stores and all school students returning to distance learning after the Easter holidays. The hard lockdown was finally extended until the beginning of May.
Personal details
Robert Elsässer is Professor of Computer Science at the University of Salzburg. He studied computer science with a minor in mathematics at the University of Paderborn/Germany, received his PhD in computer science there in 2002 and was then appointed junior professor. In 2012 Elsässer took up a position at the University of Salzburg, where he heads the Efficient Algorithms Group. His research focuses on parallel and distributed algorithms as well as the structure of graphs and networks.