Nature and Technology
May 15, 2017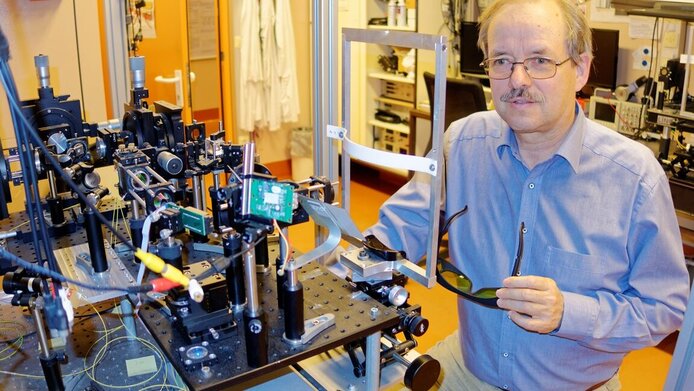 "I was very surprised and not even aware that I had been nominated", is how Christoph Hitzenberger recalls the moment when he heard by phone that he had been awarded the Fritz J. and Dolores H. Russ Prize. The deputy head of the Center for Medical Physics and Biomedical Engineering at the Medical University (MedUni) Vienna received the prize earlier this year together with his colleague Adolf Fercher, who passed away just after the award, and three US researchers. With this distinction, also dubbed the "Nobel Prize for Engineering Sciences", the US National Academy of Engineering (NAE) recognises technological developments which have made "a significant impact on society and have contributed to the advancement of the human condition".
Revolutionising eye care
The two researchers from Vienna made vital contributions to the development of optical coherence tomography (OCT), an examination method used mainly in medical imaging. With this technology, even the tiniest changes in the eye's retina can be made visible. "It revolutionised the diagnosis and monitoring of eye disorders", says Hitzenberger.
The beginnings
Adolf Fercher and Christoph Hitzenberger were pioneers in this field. In 1986, Adolf Fercher, head of the Medical Physics Institute at MedUni Vienna until 2008, was the first to measure the human eye using ophthalmic laser interferometry. At the time, the measurement required a full 15 minutes. "It was incredibly cumbersome. You had to mechanically adjust the micrometre screws on the interferometer mirror every ten micrometres", recounts Hitzenberger in recalling the beginnings of their research. In 1987, the newly appointed Professor Adolf Fercher made Hitzenberger his assistant at the Medical Physics Institute. His previous work had been in the field of solid-state physics. "I had no prior experience in this new field, but neither had anyone else at that time", notes Hitzenberger. "OCT was still a long way down the road, and nobody knew where the developments would go."
Cataract surgery
In those days, the length of the eye was measured by ultrasound. Such measurements are required for cataract surgery, where the clouded lens is removed and replaced by an artificial lens. In order to avoid patients' eyesight being defective again after the surgery, their eyes need to be measured with painstaking precision so as to adapt the refractive power of the new lens accordingly. "Ultrasound technology was not really precise enough, and it was pretty inconvenient as well", notes Hitzenberger.