Culture and Society
August 28, 2017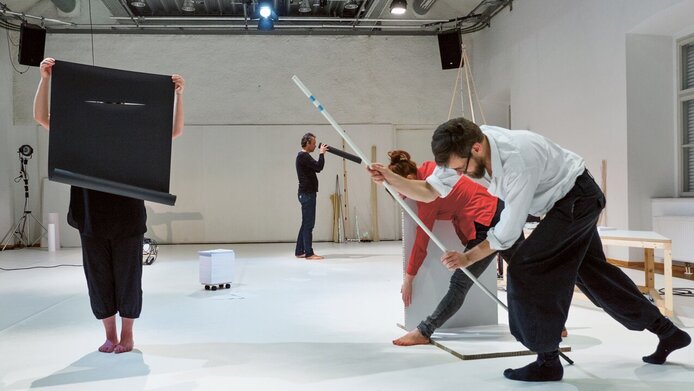 "How does language feel when you roll it around your tongue?" is projected onto a white wall by a beamer while a rod repeatedly and swiftly crosses the light beam, reflecting and blocking – but not slowing down – the letters on their way from the light source to the wall. Welcome to the "method lab" of Nikolaus Gansterer and his team, an artistic test rig for gaining practical knowledge. Gauging the world in order to know it. That is a deeply scientific approach. It is also a need felt by artists. "Science and art", emphasises Nikolaus Gansterer, "are very closely linked". Just as science exists in all its different disciplines, art has its disciplines too, and since Antiquity they have been spiritual siblings. "Artistic research is about understanding the world, uncovering its underpinnings", explains Gansterer in the interview with scilog. This statement defines the common foundation on which his work that combines art and research is based.
Thinking, feeling, knowing
Choreo-Graphic Figures: Deviations from the Line is the title of the project undertaken by the artist Nikolaus Gansterer together with dancer Mariella Greil, art-writer Emma Cocker and various guests over the past three years with the support of the Austrian Science Fund FWF in the context of its PEEK programme. "Deviations occurred simply because the project was set up as an encounter between three different disciplines." It served as a meeting-ground, an investigative field lying between the poles of choreography, writing and drawing, i.e. genuinely artistic means, which explore the forms of thinking-feeling-knowing generated by a collaborative practice. "Deviations", Gansterer adds, "are meant to be seen as a positive notion. They make it possible for us to pose questions." Deviations as an incentive, as an encouragement to discover new worlds. For their investigations the artistic research team used the "method lab", a space in which writing, choreo-graphy (Gansterer insists on the dividing hyphen here to underline that no prescribed choreography is involved but rather one that arises ad hoc and in situ out of the experiment itself) plus drawing are executed, experienced, perceived and recorded simultaneously.