High-performance materials from a pressure cooker
Nature and Technology
April 9, 2019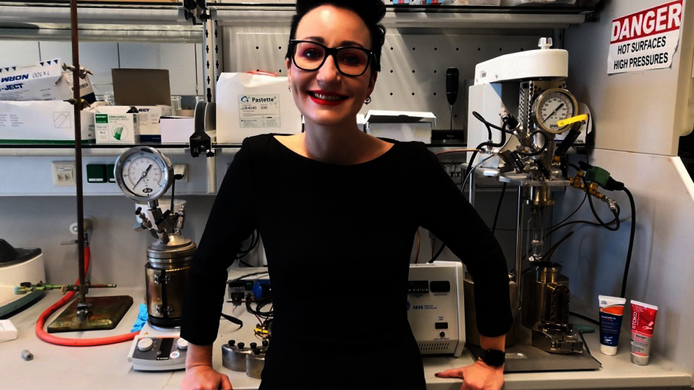 The manufacture of high-performance organic materials, such as those used in mobile phone displays or in filters for exhaust gases, often involve toxic substances. Miriam Unterlass has developed a process that is not only efficient but also environmentally friendly.
In a pressure cooker without gold or silver
Unterlass, a materials scientist and chemist at the Vienna University of Technology (TU Wien) took her lead from nature. Crystals form in water reservoirs deep inside the earth that are exposed to extreme heat and high pressure. This underground water, several hundred degrees hot, can be seen in places where it emerges at the surface as a geyser or hot spring. Unterlass uses "pressure cookers" to imitate this underground process, which is called hydrothermal crystallisation.
"In this way, we produce high-performance polymers that have a high crystallinity, or, in other words, a high degree of order at the molecular level," explains the researcher.
What is new is that this process can also be used for organic compounds. "We work at high temperatures and high pressure," explains the chemist. "This is abnormal in the synthesis of organic structures. One might think that the organic molecules would break down in such an extreme environment. But we use exactly this process to produce high-order crystalline structures from simple molecules. The starting materials are compounds consisting exclusively of carbon, nitrogen and oxygen. These substances are very light and easily available. This makes the newly developed materials lighter and avoids consuming any rare basic materials such as gold or silver," notes Miriam Unterlass in explaining the advantages of these processes.
Fine-tuning for optimum conditions
The laboratory at TU Wien is equipped with pressure reactors of different sizes. For each system, the researcher needs to identify the best respective conditions. Some materials are produced at 220 degrees centigrade over several days, others at even higher temperatures, but in a very short lapse of time. Once the optimum conditions have been identified, the pressure reactors produce polymers that are resistant to chemicals and can withstand cosmic radiation and temperatures above 600 degrees centigrade.
Applications include battery packs or exhaust filters
The resulting materials are in great demand. The organic skeleton structures can be used, for instance, as molecular sieves in which ions of a certain size can be guided in the required direction for lithium-ion batteries in mobile phones or PCs. They can also be used to filter industrial exhaust gases.
The high-performance polymers produced by the research team at the Institute of Material Chemistry in Vienna are characterised by their special stability and temperature resistance. "Previously, this required toxic, expensive and environmentally harmful solvents. We can do it with just water," enthuses Unterlass. This method is thus very environmentally friendly compared to conventional processes.
FWF funding as a game changer
In 2017, the innovative work of Miriam Unterlass was recognised by the generously endowed START Award, a grant from the Austrian Science Fund FWF to young scientists for outstanding achievements. According to Unterlass, this distinction was a game changer for her research career. "Receiving this seal of quality brought me a lot of recognition at my university and in the Austrian and international world of research, and to me it was confirmation that I'm on the right track," Unterlass happily notes.