Improving fire predictions
Nature and Technology
August 22, 2022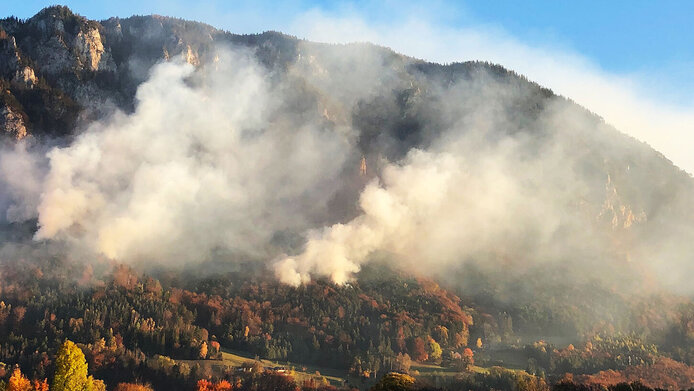 In the summer of 2018, Europe suffered from a prolonged period of heat and drought, resulting in numerous forest fires. In 2019 and 2020, large parts of Australia's bushland were burning for months, causing numerous deaths, injuries, extensive property damage and large losses in animal and plant life. Vegetation fires can be caused by lightning, sparks from a passing train, fires getting out of control or carelessly discarded cigarettes. Such major fires present a danger to air quality, health, settlements, infrastructure and human lives.
On the other hand, fire is also used deliberately in order to clear forests, renew pastures, or prepare fields for cultivation. Some plants even need fire to germinate. In a nutshell, there are many factors underlying the occurrence and spread of fire. "This is why predicting fires is so complex and requires an interdisciplinary approach," says Wouter Dorigo, head of the Climate and Environmental Remote Sensing research group at the Vienna University of Technology (TU Wien). Dorigo also heads the four-year "FURNACES" project which is co-financed by the Austrian Science Fund FWF. This interdisciplinary basic research project is being conducted jointly by researchers from TU Wien, from the University of Natural Resources and Applied Life Sciences (BOKU) Vienna, and from German institutions.
Humans and climate have an impact on fires
In order to be able to predict future fires, it is important to know causes and propagation mechanisms in the past and in present times. A look at FIRMS, NASA's global fire information map, makes the role played by human activity very obvious: in global terms, fires occur most frequently in subtropical Africa because semi-nomads burn dry grass so that fresh grass can grow for their cattle, as Wouter Dorigo explains. Land management by fire is mostly practised by poorer communities.
In rich countries like Austria, forest fires are more likely to start in the context of leisure activities – through a discarded cigarette or a campfire, for example. The probability is higher near cities because more people are out and about there than in remote regions. "On the southern slopes of the Nordkette mountain range near Innsbruck, fires are very frequent owing to the combination of a dry southern slope with pine forest, nearby settlement and leisure activities," Dorigo notes. In the summer, forest fires can also occasionally be started by lightning strikes.
Personal details
Wouter Dorigo heads the Climate and Environmental Remote Sensing Research Group at the Vienna University of Technology. His works involves the fields of climate research and microwave remote sensing. Dorigo was born in Arnhem in the Netherlands, studied physical geography at the University of Utrecht, and acquired his PhD in remote sensing from the Technical University of Munich. In 2007, he took up his position at TU Wien.
The drier the soil and vegetation, the greater the risk of fire, and wind is a factor in fire propagation. Whether or not a fire is extinguished and how quickly also depends on where it is – close to a settlement or somewhere peripheral – and on the economic strength of a society or country.
Many disciplines involved
In order to gain a better understanding of the complex local and global relationships between human activity, climate, vegetation and fire, the FURNACES project brings together fire ecology, social ecology, remote sensing, data science, fire and vegetation modelling. Records and satellite data of past fires, socio-economic data on the affected societies, models of vegetation change under climate change scenarios and societal changes pertaining to settlement, economy and agriculture, will help the researchers understand how human activity influences fires and what consequences fires have for ecosystems and societies.
Machine learning helps improve models
"The existing climate models are unable to represent the spatial and temporal distribution of fires well enough. We are trying to improve this situation, since fires contribute significantly to the CO2 content of the atmosphere and thus play an important role in the climate system," says Wouter Dorigo. For this purpose, the BOKU researchers are investigating human influence on the start and suppression of vegetation fires and the role of fire regimes in socio-economic dynamics at the local level. They are developing theoretical models of how the economic development of countries affects the fire situation.
Researchers at the universities of technology in Vienna and Dresden relate remote sensing data from past fires on location, size, spread, land surface properties, weather, soil humidity or type of vegetation to human influence such as proximity to settlements or infrastructure, livestock farming intensity or gross domestic product. Using machine learning, they model how strongly which factor contributes to fire activity in which region. In a second step, these findings will be converted into physical models so that future fire activity can be calculated for different climate scenarios.
Researchers from the "Senckenberg Biodiversity and Climate Research Centre" in Frankfurt am Main and the Karlsruhe Institute of Technology are investigating what effects climate change, changes in ecosystems and societal changes can have on fire probability. The improved models for predicting vegetation fires and their contribution to the climate system are designed to facilitate fire management in the future.
The four-year project "Future Fires: Interaction with Ecosystem and Society" is set to run until 2024 in cooperation with partners from Austria and Germany. It is receiving EUR 325,000 in funding from the Austrian Science Fund FWF.
Publikationen
Dorigo W., Moesinger L., van der Schalie R., Zotta R. M. et al.: [State of the Climate in 2020] Long-term monitoring of vegetation state through passive microwave satellites, in: Bulletin of the American Meteorological Society, Vol. 102(8), 110-112, 2021
Forkel M., Andela N., Harrison S.P., Lasslop G. et al.: Emergent relationships with respect to burned area in global satellite observations and fire-enabled vegetation models, in: Biogeosciences Vol. 16(1), 2019
Forkel M., Dorigo W.A., Lasslop G., Chuvieco E. et al.: Recent global and regional trends in burned area and their compensating environmental controls, in: Environmental Research Communications Vol. 1(5), 2019
Forkel M., Dorigo W., Lasslop G., Teubner I. et al.: A data-driven approach to identify controls on global fire activity from satellite and climate observations (SOFIA V1), in: Geoscientific Model Development Vol. 10(12), 2017