Why vaccination is a political issue
Culture and Society
June 22, 2021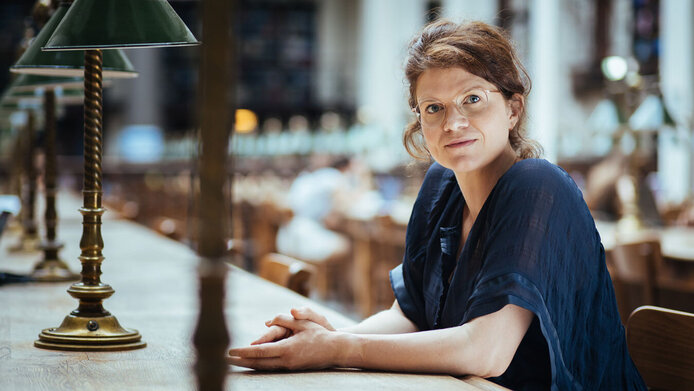 Which questions do you hope to answer in your project?
Katharina T. Paul: My project is about the value that different groups of players in society attribute to vaccination and vaccination programmes. I am assuming that this also reflects the attribution of value to political governance.
What are the concrete gaps in our knowledge that you want to close?
Paul: Until now, sociological research has focussed primarily on attitudes that are critical of vaccination. At the same time, decision-makers point mainly to the epidemiological value of vaccinations – as measured by vaccination rates, for example. In my project, I look into which other value concepts exist in society at large. These values may be defined in terms of science, business, ethics, social standing or at the personal level. They cannot always be described numerically.
Let me give you an example: The father of a child has to decide whether to have the child vaccinated against chickenpox. The doctor tells him that the child will be ill for ten days if she catches the disease. As a parent, the father calculates that he will also have to stay at home for ten days should his child fall ill. So in addition to the personal value – protecting his child – he also takes into account that economic value. He acts just like the policy-makers, who also consider economic values, such as the cost-effectiveness of new vaccination options, or protection of the workforce.
Which methods do you use?
Paul: The project is divided into five working packages: national vaccination programmes for children, primary care, pharmaceutical industry, vaccination research and social media. I will be using interviews, ethnographic observation and analysis of twitter content. An example of ethnographic observation would be observing a conversation in which a physician advises a child's parent or guardian about vaccination. My primary focus will be on the national vaccination plan for children, but my research will also address Covid 19 vaccinations.
What will be your first steps?
Paul: I am currently in the process of concluding my Elise Richter project which was made possible with the help of an FWF grant. But in the near future, I will be going on holiday! I will then recruit a team, meet international cooperation partners and do another round of fine-tuning the research design, as we have seen some new developments in vaccination programmes.
What does the START Award mean for you and your research in general?
Paul: First of all, the award means recognition of a lot of work on which this project is based. I also see it as confirmation that I have made good decisions. I was right to follow my interests and pursue research questions that piqued my curiosity. In political science, there is otherwise not a lot of interest in vaccination topics. Obviously, the award also means that I can do my research independently. And it gives me a long-term perspective for the future of my research programme.
What motivates you as a researcher on a day-to-day basis?
Paul: Certainly my curiosity. And it is motivating to study something that is so closely connected to fundamental societal questions and value concepts. I also find exchanges with cooperation partners motivating. Even if something does not work right away, this dialogue motivates me to keep going.
Do you have a role model?
Paul: I find it hard to name someone specifically. I am inspired by other women in my field who demonstrate that it is possible to pursue a demanding professional career and enjoy a good life at the same time. I have learned to greatly appreciate solidarity among women scientists. And there are historic role models – women who have made careers in science at a time when conditions were far from what they are today.
---
Katharina T. Paul studied political science in Tel Aviv, Vienna, Essex and Amsterdam and subsequently became assistant professor at Erasmus University, Rotterdam. Having won a grant under the FWF's Lise Meitner Programme, she returned to Vienna in 2013. She currently teaches and does research at the Department of Political Science of the University of Vienna. Her main research interests are comparative policy analysis, interpretive policy research, health policy, regulation, medicine and biopolitics, as well as science and technology studies.
---
About the project
The START project "Valuing Vaccination: A multi-sited policy valuography" examines the value society assigns to vaccinations. How do different players value vaccinations, and how does this value attribution reflect their attitudes towards governance? Based on interviews, ethnographic observation and analysis of social media data, the project aims at a comprehensive analysis of value principles that inform current vaccination practices.
---
The START Prize
The START Programme of the Austrian Science Fund FWF is aimed at outstanding young researchers, giving them the opportunity to plan their research over an extended period and with a high degree of financial security. It is endowed with up to EUR 1.2 million and is one of Austria's most prestigious and most highly endowed awards alongside the Wittgenstein Award.