Nature and Technology
September 24, 2021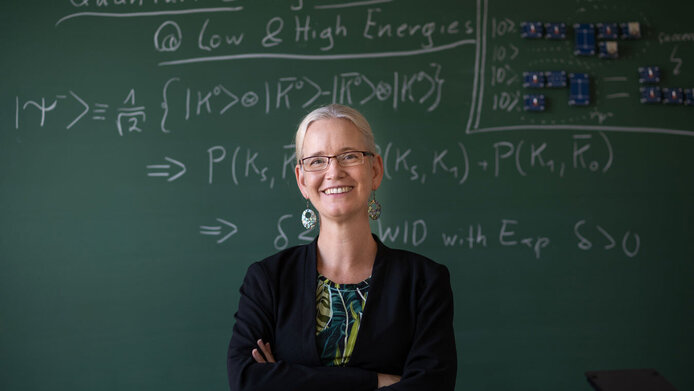 Or, to quote the words bequeathed to us by the famous American physicist Richard Feynman: "I think I can safely say that nobody understands quantum mechanics." An interesting statement – especially as it comes from someone who was a quantum physicist himself. Beatrix Hiesmayr, a 45-year old physicist working at the University of Vienna, is well aware of the difficulties her research area creates for others. In what is clearly an effort to mitigate anxiety, she kindly e-mails the Feynman quote before meetings so that conversation partners know that productive failure is on the agenda.
Quantum theory is one of the great theories of physics. It is an excellent tool for doing research work and mathematical calculations. But it has two big problems: It cannot be reconciled with general relativity, another great theory of physics. And what's more, nobody can fully make sense of it – not even quantum physicists themselves.
Counterintuitive nature
"Quantum physics is counterintuitive," says Hiesmayr when asked why her field is so hard to grasp. "When there are two doors in front of you, you have to decide, and you cannot go through both of them at the same time. But quantum particles can do that, as long as they cannot be observed." This is what is called "superposition". It's like Schrödinger's famous thought experiment about a cat in a box which is dead and alive at the same time – as long as nobody opens the box. It does not make sense. More precisely, it does not make sense in the world of large particles with its well-known laws. But other laws apply in the world of the tiniest particles.
The bigger picture
Hiesmayr is a theoretical physicist working in the field of quantum information theory. But this description does not fully cover her research interests. "I take a broad approach to physics," she says. While her main body of work is in theory, and she likes to work on the mathematical side, she is also "very interested in the experimental side," she notes. "I want to see the things that I have calculated applied in practice."
Personal details
Beatrix Hiesmayr was born in Vienna. She studied physics at the University of Vienna and went on to become an international teacher and researcher. Her doctoral thesis received two awards, the Bank Austria Award and the Austrian Physical Society's Victor Franz Hess Award. After completing her postdoc studies and qualifying as a professor in theoretical physics, she founded the Quantum Particle Workgroup at the University of Vienna. She currently works on two projects that are being funded by the FWF: "A quantum information theory approach to systems in high-energy physics" and "Classification of entanglement in complex systems and applications".