The blind spots of migration policy
Culture and Society
March 7, 2022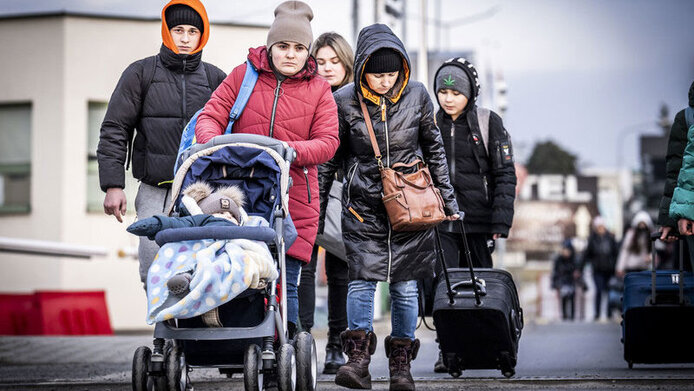 The onset was unexpected. Suddenly war has also arrived in Europe. While the world tries to find explanations, people are setting out to leave their country – among them many women and children. A native of Croatia who has experienced war, Martina Kojic now wants to help by setting up organised transfers to bring people from Ukraine to Austria. In the weekly newspaper Falter, Kojic reports that many women are afraid of human traffickers. The Ministry of the Interior reports that by now around 1,600 refugees have arrived in Austria, where they are being provided with humanitarian help. The response of policy-makers was different last year when the Taliban took power in Afghanistan. These images, too, are etched on our minds – of desperate people clinging to aircraft wings and of courageous women taking to the streets to stand up to armed men with beards. At the time, Austria ruled out taking in particularly vulnerable groups such as female judges or journalists from Afghanistan and thus went against the stance of the EU and against the Human Rights Convention. Austria did not even suspend deportations to Afghanistan, a country by then ruled by Islamists. This fact provoked angry discussions, not only amongst the population but also between the coalition partners (People's Party and Greens).
Gender-based violence has been laid down as a reason for being recognised as a refugee by the Istanbul Convention to Combat Violence against Women, to which Austria is a party. Despite this fact, Austria has been pursuing a rigid migration policy ever since the migration flows to Europe of 2015/16 and "provides little in the way of answers to violence as a reason for asylum," says Sieglinde Rosenberger, a political scientist at the University of Vienna. She specifies that "a lack of adequate measures for the integration of refugees can increase the risk that women and girls in particular are exposed to violence." Rosenberger is part of an international research network that currently has teams from seven countries exploring how exactly gender-based violence and migration are connected. "In the context of this project, we are looking into the political measures that are being discussed and applied in Austria with regard to violence against women with a migration or refugee background."
Obtaining insights into violence
For her findings, Sieglinde Rosenberger, assisted by team member Madita Standke-Erdmann, has analysed debates in parliament and in the media from 2017 onward and conducted interviews, with stakeholders from politics and institutions providing support. This is a key finding of her research: "We now have evidence that the debates are one-sided. The national context reveals that certain forms of gender-based violence tend to be highlighted, while others are neglected." According to the researchers, violence against women is given attention when linked to traditions and cultural aspects, such as forced marriage or genital mutilation, while structural violence or everyday discrimination and racism are often discounted.
Political appropriation
It is a well-researched fact, however, that violence against refugees is connected both to the length of flight and to the long duration of asylum procedures. Once people have reached a host country they are living under precarious conditions. Asylum seekers often have to wait years for a decision, a time marked by insecurity, a lack of networks, a lack of rights regarding the residential status, and restricted access to social structures (and the labour market). Although all these factors promote gender-specific violence, they are not being addressed at the political level. Rosenberger sees ambivalence in this situation and gives the following example: "While we see experts from support institutions being involved in the political discourse, this has the result that feminist and long-standing positions on women's policy become mixed up with a restrictive migration policy. As a consequence, problems arising for people with a migration background are always attributed to their religion and culture." Does that mean emancipatory demands are appropriated for a political goal? "At the very least, we have to pay close attention to the way these discourses are conducted and what the mainstream debate makes of them," notes Standke-Erdmann.
Violence is caused by many factors
The researchers argue that the debate should be broadened to include "the whole gamut of factors" that foster violence in a refugee and migration context. Very tangible measures could easily be implemented, as for instance the access to infrastructure for women who have experienced violence regardless of their residential status, which is a long-standing demand of many organisations. The war in Ukraine shows us that far from being a problem of others only, flight and migration can quickly affect each and every one of us. Researchers have shown how migration policy and an adequate infrastructure can make an essential contribution to reducing the risk of being exposed to violence for people with a migration background. Nonetheless, Austria was one of the few countries in the EU to stop programmes for the humanitarian admission of people in need of protection in 2018. In view of the current crisis in Ukraine, this integration policy has been suspended for the time being.
---
Personal details
Sieglinde Rosenberger is a Professor of Political Science at the University of Vienna. Her focus is on Austrian policies, migration and integration as well as political participation and protest. Rosenberger and her team are one of eight international project partners in the GENDER-NET project "Violence against Migrant and Refugee Women", which is co-funded by the FWF. The three-year basic research project is set to run until June 2022.
Madita Standke-Erdmann is a doctoral student, lecturer and research project assistant in the GENDER-NET project at the Department of Political Science, University of Vienna. Her research focuses on gender-based violence against women with a migration or refugee background, as well as on European border policies.
---
Publications
Standke-Erdmann M.: Intersectionality and refugee women. The shortcomings of the EU Pact on Migration and Asylum from an intersectional perspective., Heinrich-Böll-Stiftung European Union 2021
Standke-Erdmann M., Gassner B., Rosenberger S.: Country Report Austria: Gender-based violence against women migrants and refugees. As part of the FWF-funded ERA Gender-Net project I 4208 GBV-MIG "Violence against women migrants and refugees: Analysing causes and effective policy response", 2020