Taking the antibody taxi right into the cancer cell
Nature and Technology
June 22, 2021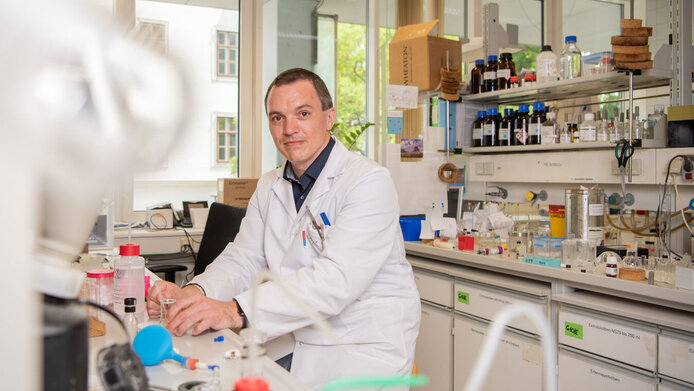 What is your START project about?
Hannes Mikula: In most cases, the active substances used in classical chemotherapy are poison more than they are medicine. Since they do not only attack cancer cells, they have serious side effects. The problem is not that tumour cells can't be killed, but that healthy cells are also destroyed in the process.
How do you want to solve this?
Mikula: A newer strategy is already being used in clinical practice: the active substances are sent to the tumour in a "molecular taxi". A molecule serves as a shuttle in the most focused and targeted way possible. Owing to the pandemic, one of the classes of substances that is already being used is quite well known nowadays: antibodies.
Where does the antibody taxi go?
Mikula: Unfortunately, it often doesn't end up where it is supposed to. And it's not one hundred per cent stable, either, which means the active ingredient is split off at the wrong place. The big problem is that we still can't control how molecules move in a cellular environment – this is something we want to achieve through chemical reactions. Usually it scares people off when you say you want to produce a chemical reaction in a human body. After all, chemistry is often associated with industry, unhealthy food, toxic gases and explosions. In order to be able to produce a chemical reaction safely and in a controlled manner in cells, it is all the more important for this molecular technology to be very sophisticated. The reaction has to occur at exactly the place and in exactly the way we want it to happen.
What are the difficulties?

Mikula: It isnot enough if the antibody binds to the cancer cell but the active substance does not end up directly in the cell. What happens on the last leg? How can we make sure, by means of a chemical reaction, that the substance is not being taken up by a healthy neighbouring cell? We want to steer molecules specifically into cancer cells, and we are trying to do this with the new concept of a chemical cascade.