Roman stones tell us about their origin
Culture and Society
January 27, 2020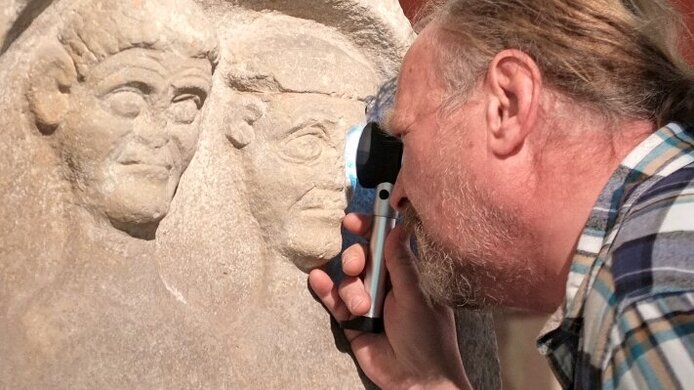 Stone monuments from Roman times found in Austria have been talking to archaeologists from the moment they were excavated. What exactly they communicate, however, depends on the questions put to them. What, for instance, does the grave stele tell us, erected in memory of the soldier Rufus Lucilius around 44 AD on the Carnuntum street of tombs? It conveys surprising facts, because it is known that at the time when Roman troops arrived in the Vienna Basin at the beginning of the first century AD, stone was not used there even as a building material for houses. The "CarVin" research project brings together an interdisciplinary team under the auspices of the Institute for the Study of Ancient Culture of the Austrian Academy of Sciences. The researchers are exploring the provenance of the stones found and the archaeological context of monuments from the Roman period.
Sophisticated warehouse logistics
"Not every type of rock is suitable for every utilisation," emphasizes principal investigator Gabrielle Kremer. A finely carved statue requires a different raw material than a roughly hewn wall block. In addition, transporting stone takes quite an effort, especially if it had to be done by ox cart instead of by ship on a river. When the Romans conquered the Vienna region, they not only scouted out a suitable storage site on the frontier formed by the River Danube, but also engaged in advance exploration of suitable raw material deposits in order to be able then to roll out their logistics and well-evolved cultural techniques. The stone monuments from Carnuntum and Vindobona erected at the time of the Roman occupation, for instance, are not only of cultural and historical significance, but they also testify to the economic, social and technological transformations experienced in the region. Sites and people there that could ensure the supply and processing of stone building materials probably found themselves in much greater demand from that time onward.
Scrutinizing the stones
The team of researchers from the Academy of Sciences, the Vienna University of Technology (TU Wien), the Geological Survey of