Palm trees, the ocean and a fear of mass hysteria
Culture and Society
October 17, 2018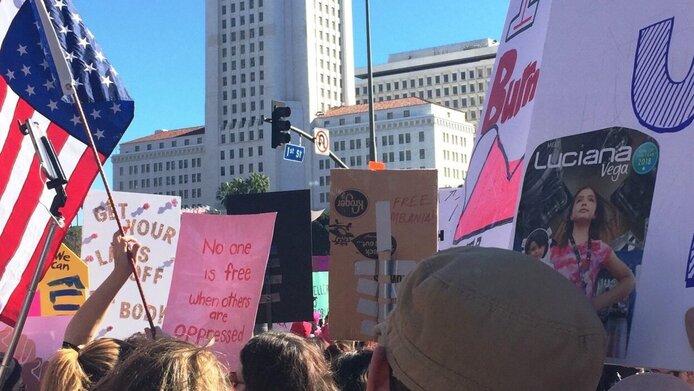 When I began to develop the first ideas for my research project on hysteria and US popular culture almost exactly two years ago, I could not imagine in my wildest dreams what topicality and order of magnitude the term "hysteria" would gain in this short time. Last autumn, shortly after I moved to Los Angeles, the Harvey-Weinstein case and the associated #metoo movement resulted in huge media debates. Once again, the private sphere ended up on the political agenda with a vengeance, as it inevitably became apparent that the everyday lives of a large number of people were still affected by sexist, homophobic and transphobic as well as racist and anti-Semitic attacks. Every single day, wherever I went, new stories and their effects were hotly debated. While there was great euphoria about the movement at the beginning, the backlash didn't take long to materialise.
Beyond Your Wildest Screams
Right now, the term hysteria (see: #hysteria, #masshysteria) is so popular that all sides of the political spectrum utilise it to defame the opposition as "mentally ill"; and yet the diagnosis of hysteria is predominantly being waged against those who publicly denounce social injustice (#metoohysteria #witchhunt #liberalhysteria). As an artist and cultural scholar, I find this discourse highly intriguing. The Erwin Schrödinger Fellowship enables me to conduct "field research" in daily conversations on campus, in lectures, art and cultural events, at the supermarket check-out, in elevators and other private and public places. In this way I get to investigate this phenomenon of mass hysteria not only from a distance, but close up and very tangibly. This proximity opens up completely new dimensions for my work.
Since my project is primarily concerned with the hysteria studies conducted around 1900 – by Jean-Martin Charcot and, subsequently, by Josef Breuer and Sigmund Freud – and their effects on a large number of highly popular horror films from the 2010s, Los Angeles as a film-production setting is an incredibly exciting city for me to be in. While I was usually the only one to enthuse about the references to current political events in horror movies back in Vienna, I find a completely different awareness of the cultural value of this genre here in Los Angeles. Serendipity also had me find lodgings at "The Ravenswood" – a historic apartment building in Art Deco style built by Paramount Pictures and owned later by Mae West. Thanks to rent control, I can do my weekend reading at the pool in the spirit of the early Hollywood years and analyse my primary sources on the fifth floor with a view over Los Angeles.
The Best Nightmares Never End
Right at the beginning of my research work at the University of California, Los Angeles (UCLA), I organised a series of events that dealt with hysteria and its historical, social, and political implications. I was surprised by the lively response and the strong public interest in these events, but at the same time it confirmed the acute topicality of my research project.
This series of events has resulted in exciting collaboration projects; I have been able to invite renowned female researchers to UCLA and actively contribute to the research discourse. The great interest in my research project finally led to an invitation to Stanford University, where I will continue the series next year. In view of the current situation and the push-back of the "new hysterics" I am excited to see where the "hysteria" leads (me), but one thing is certain: the future looks hysterically promising.