"Only those who fail can progress"
Nature and Technology
November 3, 2016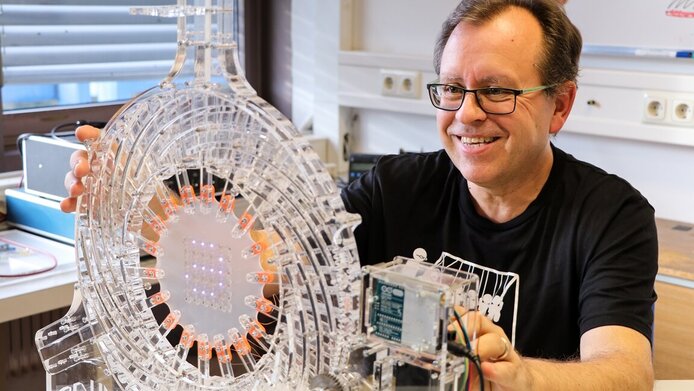 If you enter his laboratory you won't see any expensive high-tech equipment right away. Instead, there is any amount of Lego toy bricks, plastic film, a drain pipe, a "Lego-based stretcher", a laser cutter and a 3D printer. "We also use balloons. If you work like this you are looked at, of course, as very provocative! After all, physics is regarded as being difficult and incomprehensible, so how could physics research possibly take inspiration from things as humdrum as that", says Siegfried Bauer in the interview with scilog, adding: "My people are extremely successful in Japan and the USA with their 'toys'!" – It's no wonder "playful" is a term his colleagues tend to use when commenting on his working methods.
From kitchen to top journal
In his research, the university professor and head of the Soft Matter Physics (SoMaP) Division at the Institute of Experimental Physics, Johannes Kepler University Linz (JKU), deals with highly topical issues such as electronics on curving surfaces, flexible and concealed electronics that can be attached anywhere, but also artificial muscles. Bauer is convinced that 20 to 30 years from now we will be just as familiar with electronics in our clothes, on our skin and even in our bodies, as we are with tablet computers and smartphones today. Among the things he works with are elastomers, such as one can buy in DIY stores as window sealants, or kitchen plastic film. Doing so also gets him on the cover of top journals, since his work is seen worldwide as trailblazing in the area of macroelectronics. In his research, he combines applied mechanics and physics with electrical engineering in order to create the hardware for the Internet of Things.
Electronics one can crumple up
One of the members of his team is Martin Kaltenbrunner, who returned from Japan to the SoMaP in 2014 and acquired academic habilitation status in 2016. Kaltenbrunner has managed to apply electronic circuits to an extremely thin film. The film is 27 times thinner than paper and can be stretched and even crumpled without damaging the circuits. There are many possible applications for this development. The electronic foil could, for instance, be attached to dentures for quadriplegics. Touching them with the tip of the tongue could trigger electrical impulses and thus control devices that quadriplegics would not be able to operate otherwise.