Nasal spray against drug death
Culture and Society
October 8, 2020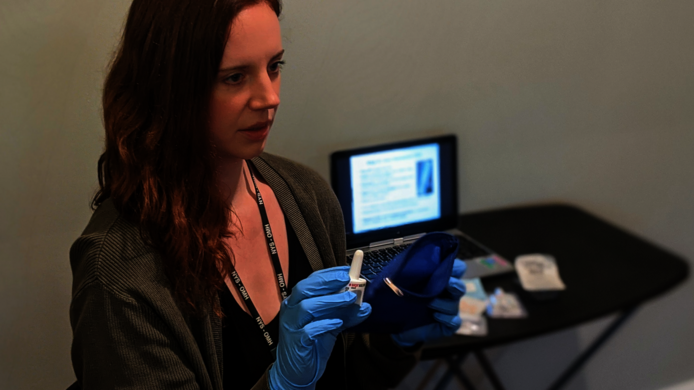 Academy Award winner Philip Seymour Hoffmann, pop legend Prince, US musician Tom Petty, three show business luminaries with the same cause of death: an overdose of opioid painkillers. This is a problem that affects not only the music and film industry, but all strata of American society.
Painkillers as a gateway drug
It quite commonly starts with a sports injury, a sore tooth or back pains. The doctor will prescribe an opioid-containing painkiller that quickly relieves the pain – and makes the user dependent. This is a seemingly harmless way of becoming addicted to drugs. According to estimates by US authorities, there are over two million opioid addicts in the country. The CDC reported the number of drug-related deaths in 2019 at around 71,000. Every single day, almost 200 people die in the USA from overdosing on opioids – including heroin, methadone, fentanyl and prescription painkillers. The opioid epidemic is now the leading cause of death among US citizens under 50.
It all started with the miracle pill
1996 marked the beginning of the first wave of the opioid crisis, when the US company Purdue Pharma launched the prescription painkiller OxyContin and for years marketed it as being completely safe. This drug provided quick, seemingly harmless relief for many pain patients. It was also attractive for health insurance companies because the drug was cheaper than long-term therapies. Between 1991 and 2011, the aggressive marketing of the alleged miracle pill by the manufacturers and the eagerness of doctors to prescribe it led to a tripling of prescribed painkillers in the USA, from 76 million to 219 million per year. The consequences were devastating, since the synthetic opioids contained in the drugs are not only effective against problems such as pain and anxiety, but they also very quickly induce addiction.
From painkillers to heroin and fentanyl
As prescribing practice became more rigorous and the pills became too expensive on the black market, many people who were addicted switched to cheaper semi-synthetic heroin and, in recent years, increasingly to the completely synthetic opioid fentanyl. This was another fatal development: fentanyl is 50 to 100 times stronger than morphine, which increases the risk of a fatal overdose due to respiratory failure. Given that the production of fentanyl is relatively simple and that its high potency enables dealers to rake in large profits with comparatively small amounts, the substance is also mixed into cocaine and methamphetamines. As a consequence, drug users are sometimes not even aware that they are at risk of overdosing. A famous and sad case in point: the US musician Prince, who died in 2016 from an accidental fentanyl overdose.
National emergency
After fentanyl had ominously and triumphantly conquered the US drug market in 2013, the number of overdose deaths continued to rise in the following years. The opioid crisis took on such proportions that President Donald Trump declared a national medical emergency in October 2017: in that year, 47,000 people died as a result of an opioid overdose, which is the equivalent of 130 deaths every day.
Overdose reversal with naloxone