Learning to live with nature
Culture and Society
October 31, 2022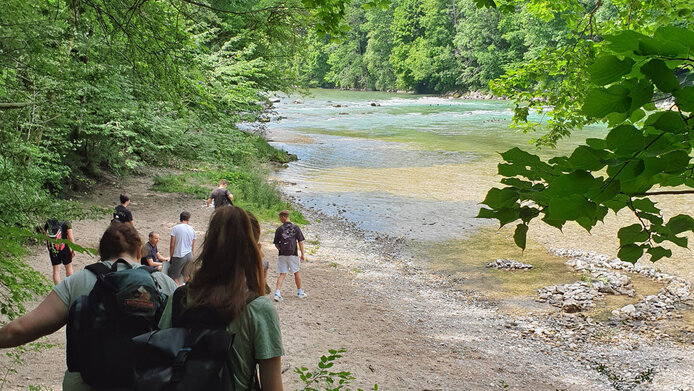 Most of the massive extinction of species concerns freshwater habitats, because rivers all over the world are being built up, degraded, overused and polluted. Many people are not even aware, however, that aquatic life is suffering and what is causing this suffering. For this reason, the Australian sustainability researcher Shé Hawke wanted to develop an app for young people to explore and document a river in their neighbourhood based on the principle "you only protect what you know".
For this project, Hawke sought the cooperation of the elementary philosophers of the Science and Research Centre in Koper, Slovenia, who in turn brought in the sociologist Reingard Spannring from the Institute of Educational Science at the University of Innsbruck. Spannring is conducting research in the areas of environmental education, educational philosophy, critical animal studies and youth. The team has been using an interdisciplinary approach to investigate how one can learn to treat the environment and nature in a better way in the Anthropocene.
Understanding water in a holistic way
The result of their work is called Aqua MOOC, and it is more than just a nature experience app: the collaborative online course (MOOC is short for massive open online course) is designed to teach young people and students about the bio-social connections between nature and culture, and to encourage them to use the learning platform for sharing photos, short videos, audio recordings and their own experience of rivers.
"Our focus was on 'water literacy', or water-related knowledge, which has become more important owing to the rising number of conflicts over water, droughts and floods," explains Reingard Spannring. She notes that most studies and educational concepts on this issue only emphasise cognitive and scientific knowledge, as well as human needs. Posthumanist educational research, the field in which Spannring works, is critical of dualisms such as animal-human or nature-culture, which accord priority to humans over animals and to culture over nature. Putting the special position of humans in perspective, posthumanism tries to bridge the separation between humans and nature and to show the interconnectedness of all life.
Reflecting on rivers and their meaning
Against this background, it was one of the goals of the research project "Surviving the Anthropocene", which was co-financed by the Austrian Science Fund FWF, to be able to understand and help shape the ecological, economic, cultural and spiritual value of water in a holistic way. Aqua MOOC supplies knowledge about the biosocial, adaptive system of riverscapes, where everything is connected to everything else. Another module is dedicated to the influence of humans on rivers, and illustrates why even seemingly small actions can change the system. The learners are asked to reflect on how different cultures think about rivers and what meaning they accord to water. The fourth module explains the research method of "multispecies ethnography", which helps to document and understand the coexistence of humans with other living beings and rivers.
Learning in theory and practice
Spannring reports that the fourth module was developed on the basis of experience gained with two school classes in Innsbruck and in Bad Reichenhall, since most of the young people did not really know what to look for at all when exploring nature in the outdoor environment: "The young people in Innsbruck, for example, did not document much of the natural life by the river, and some even said that they were not interested in nature. But they knew where homeless people spend the night, where drug addicts hang out, or what were good spots for a barbecue." Spannring notes that one can tie in with these interests and experiences and follow up with other topics: "For instance, I can explain to them what happens when I wash my picnic dishes in the river or how the lights on the riverside promenade affect the animals in the river."
The research project has shown that the learning package needed to be holistic: both encouraging beautiful, sensual encounters with nature and animals, and developing critical thought and criticism of structures and systems. Another important aspect is to make people aware of how quickly and hugely the world is currently changing. For, as Reingard Spannring notes: "We perceive nature in the way we know it from childhood." If you have never experienced a natural, dynamic river with alluvial forest, structured banks and gravel banks, you will not be able to realise that a straight concrete bed is not a suitable habitat for fish and other life in the riverscape.
Participatory engagement in and with riverscapes
"Aqua MOOC" has been online since March 2022. It is part of the international research project "Surviving the Anthropocene through Inventing New Ecological Justice and Biosocial Philosophical Literacy" (2019-2022). This collaborative project puts an elemental philosophy of water and air at the centre of innovative pedagogy with the aim of creating awareness of the Anthropocene crisis by bridging the gap between culture, nature and ethics. The learning platform is funded by the Austrian Science Fund FWF and the Slovenian Research Agency ARRS. Aqua MOOC is available free of charge to all users (not just young people) after simple registration.
Project websites:
https://www.uibk.ac.at/bgl/surviving-the-anthropocene/
https://www.zrs-kp.si/index.php/en/antropocene/#1524471829769-1b150e93-628c
---
Personal details
Reingard Spannring studied sociology at the Universities of Sussex and Vienna and worked at the IHS and the Austrian Institute for Youth Research. In 2006, Spannring took up a position at the Institute of Education at the University of Innsbruck, where she also began to work on critical animal studies, environmental education research, philosophy of education and teaching-learning theories. The relationship between humans and nature, and humans and animals occupies a central place in her work.
---
Publications
Hawke S.M., Spannring R.: Embodying the Earth. Environmental Pedagogy, Re-Wilding Waterscapes and Human Consciousness, in: Pedagogy in the Anthropocene, Palgrave Studies in Educational Futures. Palgrave Macmillan, Cham. 2022
Spannring R., Hawke S.: Anthropocene Challenges for Youth Research: Understanding Agency and Change through Complex, Adapative Systems, in: Journal of Youth Studies 2021
Grušovnik T., Spannring R., Lykke Syse K. (Hg.): Environmental and Animal Abuse Denial. Averting our Gaze, Lexington Books 2021