Leading edge with secure data
Nature and Technology
April 19, 2021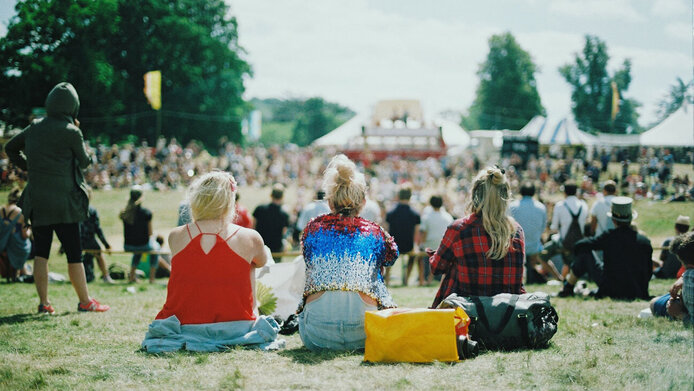 It has been a long time since most people have seen cultural venues or football stadiums from the inside. Before event organisers had to close their doors, they were already using various methods of contact tracing. Data protection was conspicuously absent in many of these methods. Doctoral student Sophie Grünbacher is involved in a project supported by the Austrian Science Fund FWF at the Institute of Logic and Computation, Vienna University of Technology (TU Wien). In addition to her research, she founded the online ticket vendor "Absolut Ticket" together with her partner Philipp Neubauer. Absolut Ticket is the platform underlying "Vereinstix" – a secure data deposit tool.
This is how Vereinstix works: if a football club wants to hold a match, they are sent a poster with their own QR code that they can display at their next event. Each visitor scans the code and deposits their email address or telephone number. Should a visitor be found positive for Covid-19, Vereinstix takes care of contacting the other visitors in an anonymous fashion. The data is stored on an Austrian server without external cookies and separately from each other. Since the company is based in Austria, GDPR rules apply, including the concomitant checks. Not even the organisers themselves have access to the data, which is automatically deleted after 28 days. In addition, the system uses so-called asymmetric encryption, which involves one digital key to store the data and another one to decrypt it – and that information is only available to Vereinstix.
Free solutions with secure data
Back when events where still taking place the tool developed by Grünbacher and her partner was greatly sought after and used by roughly 200 clubs. When football matches and similar events were cancelled because of the pandemic, it was restaurants that were obliged to register their guests and thus needed a contact tracing tool. Many restaurants resorted to pen and paper, i.e. the analogue approach, and those that used digital solutions usually opted for big companies such as Microsoft or Google. "On their contact forms you usually have to agree that they may also use the data for marketing purposes. This is why we decided that we wanted to provide our solution for restaurants free of charge as a matter of principle."
About 250 companies – among them larger supermarket chains and corporate cafeterias – were using the secure variant of Vereinstix. If someone notified a suspected Covid-19 infection, the surrounding tables or customers present during the same time slot were contacted. Notifications, however, were ultimately rather rare. "We think that many restaurants decided not to notify because they may have been afraid that the media would pick up on it." For this reason, Grünbacher and Neubauer are already thinking about improving their tool. They intend to integrate end-to-end encryption, similar to the popular messaging app Signal. How is that different from asymmetric encryption? When someone reports a case, no-one gets to know – not even Vereinstix itself – therebyproviding an extra level of confidentiality. Whether or not the couple will be able to implement the improved version depends on funding.
New competition for data analysts
Soon after Vereinstix was launched, Grünbacher and Neubauer set up a company named "DatenVorsprung" using the slogan "Zukunft made in Austria". Their ambitious goal is to provide a counterweight to the power of US companies and to offer trustworthy data analysis executed on servers located in Austria. Similar to Google Analytics they offer visualisation, visitor flow analyses or visitor flow forecasts – and all of this on the basis of artificial intelligence. "We want to demonstrate that you can draw a lot of benefit from data without misusing it," Grünbacher says. She also notes that many companies already have all the required data but do not know what they can do with it.
Following her studies of technical mathematics Grünbacher ended up in a position in the "Cyber-Physical Systems" research group at TU Wien. Trustworthy algorithms based on artificial intelligence are also the subject of her doctoral thesis. What exactly is meant by "trustworthy" needs to be defined in the process. "Imagine you have a car with a pendulum that you want to keep in balance. We could manually go through the whole gamut of possible angles, or create a digital model and define all unsafe ranges that would make the pendulum fall over," Grünbacher explains. The same approach could be used for autonomous driving, in which case the unsafe ranges would include anything too close to another car or a human being.
For the time being, the obstacles are of a mathematical nature. "Most of the time, these systems are huge neural networks. In order to restrict their size, we use differential equations," Grünbacher notes. In this way, the required computing power can be reduced. The method might also be important for pandemic management, for instance when it comes to tourism and visitor flow management: "We model a place with many points of interest, such as an outdoor pool, a petting zoo, and the like. Then we study how visitors can move around in such a way that none of these points gets overcrowded. A secure artificial intelligence will not only help with crowd management in Covid-19 times, but also with avoiding the unwanted environmental impact of tourism and overtourism, for example." Now all we can do is wait until the tools can actually be used.
---
Personal details
Sophie Grünbacher is a doctoral student in a project funded by the Austrian Science Fund FWF at the Institute of Logic and Computation, TU Wien. She studied technical mathematics and explores technical solutions in the field of artificial intelligence with a focus on AI marketing. In 2020, Grünbacher launched the online ticket provider Absolut Ticket together with her partner Philipp Neubauer. Absolut Ticket is the platform underlying Vereinstix.