Interactive technologies for being different together
Nature and Technology
June 26, 2023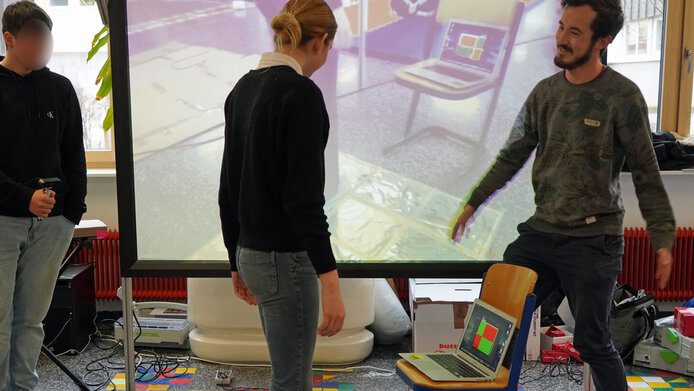 "Technologies have the power to assign social categories by dividing people into groups on the basis of gender, age or origin. This results in exclusion. Diversity computing is a critical investigation of this power and intends to envision new concepts for inclusive and diverse technologies." This is how Christopher Frauenberger, professor at the University of Salzburg's Center for Human-Computer Interaction (HCI) sums up his research field. Together with postdoc Jeanette Falk and PhD students Anna Blumenkranz and Moritz Kubesch, Frauenberger is working on the FWF-funded Diversity Computing Spaces project, which explores how digital technologies can be used to create intelligent physical spaces for very different groups of people, where they can experience things together without feeling excluded. For this purpose, Frauenberger's team is working with second-grade teachers and students at a Salzburg secondary school.
Understanding diversity
In order to capture the diversity of the students and incorporate it in the implementation of the Diversity Computing Spaces, the research team held nine workshops for two school classes each in 2022. "It is particularly important to take all dimensions of diversity seriously. This relates to more than categories such as gender or age and can also include aspects such as moods and experiences. We want to incorporate the students' contributions in our research by using participatory design methods," explains Jeanette Falk.
The researchers explored how students perceive informal spaces such as break rooms or schoolyards and then involved them in possible redesigns of these spaces using mainly interactive technologies. The youngsters' ideas covered a wide range, from massage robots to entertainment systems or spaces for pursuing their interests – without any special technologies. The students coded some aspects of their ideas by means of easy-to-use computers such as Calliope mini, Makey-Makey, and e-textiles with Arduino controllers, and developed simple prototypes. In the process, the researchers collected feedback and produced photos, audio and video recordings that were evaluated together with the notes made by workshop leaders.