In the Silicon Valley of medieval research
Culture and Society
February 14, 2019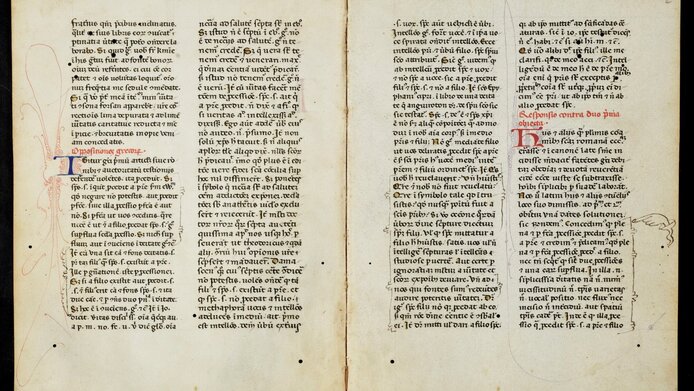 Obtaining new insights in the field of medieval studies primarily means researching the medieval sources themselves. Apart from the relevant expert knowledge and language skills as well as expertise in the field of auxiliary sciences of history, which are part and parcel of a medievalist's toolbox, there are essentially two things without which a well-founded exploration of the Middle Ages would be impossible: sophisticated libraries equipped with all the aids for medieval studies, and the stimulus that a vibrant, probing, interdisciplinary research environment brings to this discipline. This is why I applied ambitious standards when it came to selecting foreign research institutions for my Schrödinger fellowship. Ultimately, I established contacts with two research institutions that constitute the "Silicon Valleys of medieval studies".
Excellent environment in the American Midwest ...
I spent the first of my two years abroad as a visiting researcher at the Medieval Institute of the University of Notre Dame in Indiana, USA, an elite university in the American Midwest founded by the Catholic Congregation of Holy Cross, which is one of the places to go in North America for my field of research (but not only for that). It proved an immersive experience in a campus world that was completely new and fascinating for me. For a whole year, I was part of a community of academic research excellence and felt at home in an incredibly warm welcoming culture. And apart from the scientific and project-related benefits I reaped from this year, it was the first time that I switched from a bicycle to a car, carved my own Halloween pumpkin and mentally set aside some of my first future tenure salary for importing an American La-Z-Boy recliner.
... and the south-German state of Bavaria
The renowned host institution of my second research stay recently received an accolade as the "Memory of the Middle Ages" (Süddeutsche Zeitung No. 16/2019). Coinciding with the 200th anniversary celebrations of the Monumenta Germaniae Historica (MGH) Institute in Munich, I am currently working in the reading room and library of this research establishment that is universally regarded as a prime hub of medieval research. Having joined new local networks and those that link up with my home university in Vienna, I have found here optimal conditions to advance my project in terms of content (while being virtually lumped together with the Bavarians in the international atmosphere of the Institute on account of my 'Austrian dialect'). Don't stray too far from the truth – is one of the things 'my' anonymous Dominican wrote in his treatise in the 13th century. My home faculty in Vienna seems to share this view and has offered me a teaching position to kick off my return year at the Institute of Historical Theology - an offer which I gladly accept. I'll be raring to go, fortified by my knowledge of the theological Middle Ages garnered in both Germany and the 'New World'.