"In history, violence is the rule"
Culture and Society
May 9, 2016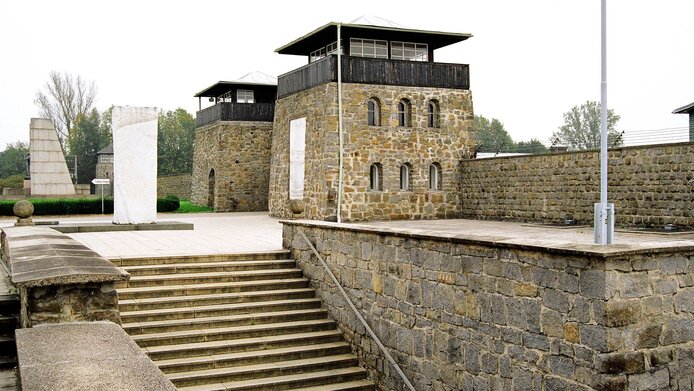 On 5 May 1945, shortly before the end of WWII in Europe, the US Army liberated the Mauthausen concentration camp. This was the main Nazi concentration camp on Austrian territory and was among the last to be liberated. As the Red Army advanced from the east, the Nazis closed smaller camps and sent the inmates on so-called "evacuation marches" towards Mauthausen, Gusen or Ebensee. Many prisoners died on these death marches.
Obliterating the traces
At the camp in Mauthausen, the staff also started to cover their tracks by destroying documents and liquidating "individuals with access to secret information", the bulk of them prisoners that had been working in the crematoria. Built by the SS and its commercial subsidiaries in 1938, the Mauthausen concentration camp was not only created to punish individuals by imprisoning, torturing and killing them, but also to force them to work in the nearby granite quarries and, during the second half of the war, in the weapons industry. "Prior to the liberation in 1945, almost 200,000 people were detained at Mauthausen, at the branch camp of Gusen and the various sub-camps, where at least 90,000 of them died: they died of exhaustion, starvation, the cold, were hunted or beaten to death, sent to the gas chamber or executed", reports Bertrand Perz.
Memorial
This history professor from the University of Vienna is familiar with the history of Mauthausen like no other expert. He started his research on concentration camps in the late 1970s, thus establishing a new field of research in Austria together with his colleagues. From 2009 to 2013, Bertrand Perz was the scientific head overseeing the redesign of the Mauthausen Memorial, an important educational institution since the 1980s. Every year 200,000 visitors come to see it, one third of them school classes. The original exhibition, opened in 1970, was one that had been designed by survivors. At the time, it was the only permanent exhibition on the topic of National Socialism. "A historical exhibition normally has a half-life of no more than 10 years, but this one lasted from 1970 until 2012", emphasises Perz.