Nature and Technology
October 6, 2016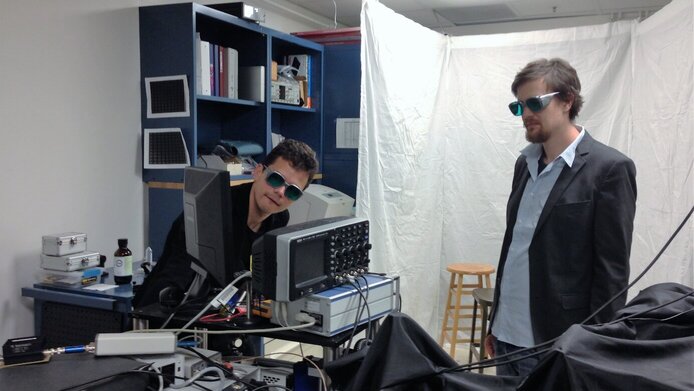 After an intense phase of planning, a Schrödinger fellowship by the Austrian science fund FWF took me to the US, more precisely to the Bay Area of Berkeley near San Francisco. Enar, my girlfriend, also managed to find a slot at her preferred university, the San Francisco Art Institute, where the famous photographer and environmental activist Ansel Adams worked many years ago. The Bay Area is unique in several respects: it hosts not only a very high density of superrich residents but also many people who are smarter than the average together with their offspring. At the same time, you feel and see abject poverty, sometimes no more than a block away. In this place, you don't just "earn" money, as we tend to put it in German, you really need to "make money"!
The burden of the American dream
This has to do with the American dream and the conviction that absolutely everyone has it in them to "make something of themselves". In order to instil that idea in the minds of students too, some universities charge them study fees of more than USD 25,000 per term. – Not including accommodation, meals and insurance, by the way. It is not a rare thing here for graduates to end up carrying a debt load of more than USD 150,000. This means they need to be creative, and they are also under considerable pressure, because a poorly paid job would not allow them to cover even the annual interest on their loans. The ensuing burden already makes itself felt during their study years.
Dark energy with international radiating power
I learned my craft as an experimental physicist at the University of Vienna, and, true to the motto of "two weeks at the lab save you one hour at the library", I was highly motivated when I embarked on my research stay at the laboratory. Here in Berkeley I work on laser-cooled atoms which are trapped in a vacuum chamber in order to carry out highly precise measurements of certain forces, such as gravitational acceleration. We used this method to develop an experiment that can test special "dark energy models", and the first publication of our data immediately stirred great media interest in the US and further afield. Die Zeit, Der Standard or the BBC were just some of the media reporting about our research. Now another publication of new results on dark energy is imminent. This time, however, the data are more than a hundred times more precise, enabling us to measure acceleration within the range of 1 billionth of gravitational acceleration.
A leisure time project combining art and science
During my research at the Department of Physics at the University of California, Berkeley, I was often in touch with Thomas Juffmann, who is doing research at Stanford. Thomas is a good friend of mine from our time in Vienna as PhD students. – We spent five years at the same basement lab working on our theses. And so one night here, as we were having a beer with Enar De Dios Rodriguez, who is an art student specialising in photography, we developed the idea of creating a project at the interface between science and art. On the following weekends we "hijacked" an ultrafast optics laboratory in Stanford. We used a laser as the flashlight and the photodetectors as the camera. We quite unobtrusively converted the lab into a semi-professional photo studio with curtains bought from Ikea (see photograph).
Watching light as it makes a photograph
During the initial weekend we already managed to create a first photo series. We had built a camera-flash system able to record images in the sub-nanosecond range. The exposure time is so short that you can watch light move across the room, thus enabling you literally to watch as the light (photo) "paints" an image (graph). Our early worries that our method of producing photographs might simply end up in a laser safety course as a "don't do that" example did not materialize. Much to our delight, our science art project was not only exhibited in the US, but was also part of this year's Ars Electronica festival in Linz within the context of Radical Atoms. For more information on the project check this website: www.seecphotography.com.
Back to the roots
It's interesting for me to note that I have returned to the same place where, almost exactly 30 years ago, my parents took me during a one-year research stay. Back in 1986, however, it was not me but my father who was a postdoc student at Berkeley in California's Bay Area.