"Greetings" from Lower Styria
Culture and Society
November 19, 2018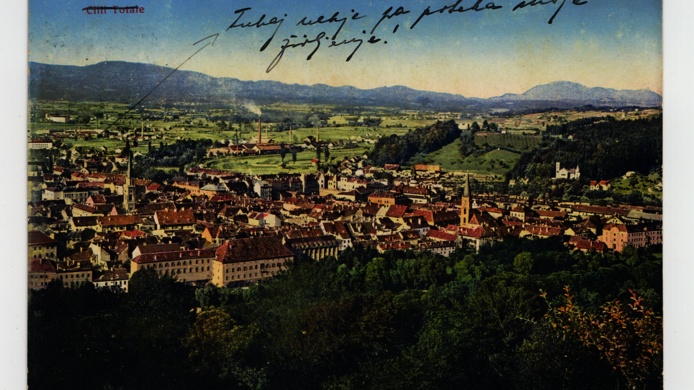 Historical postcards are not only a collector's item: sometimes they also prompt questions. Why, for instance, was Cilli, the German name for the Slovenian city of Celje, crossed out by hand on a postcard from 1914? And what is the significance of the arrow pointing towards the factory on the postcard, accompanied by the Slovenian words "Tukaj nekje pa poteka moje življenje!" ("My life moves along here somewhere!")? For the inveterate postcard collector and Slavist Heinrich Pfandl from Graz University's Institute of Slavic Studies, postcards like these are of particular scientific interest. For he and his team are intent on demonstrating the connections between nation, language and identity on the basis of postcards from the historical region of Lower Styria (Spodnja Štajerska) from the period between 1885 and 1920.
From private to online collection
The starting point for this FWF-funded project was the researcher's own private collection of postcards: Pfandl possesses about 500 postcards from the time when the two Styrias - one in Austria and one in today's Slovenia - still belonged together. Within the framework of the research project, which ends in 2019, the team has viewed and analysed around 10,000 postcards from collections in Austria and Slovenia and processed example cases. Interdisciplinarity plays a central role in this undertaking. The photo historian Eva Tropper, for example, contributes her expertise to the virtual presentation of image sources. The historian Karin Almasy is an expert on this particular region. In order to provide online access to the postcards and to the knowledge gained from them, the most meaningful items, i.e. around 2,000 cards, will form the basis for a virtual postcard collection for Lower Styria (POLOS) which is currently being set up. This database was created in cooperation with the Center for Information Modelling of the University of Graz (ZIM/ACDH) and will be integrated into the "Visual Archive of Southeastern Europe" portal in 2019. The results of the project can also be seen in the exhibition "Štajer-mark" in the Pavelhaus near Bad Radkersburg until 2 March 2019.