A profound understanding of symmetries
Nature and Technology
June 22, 2021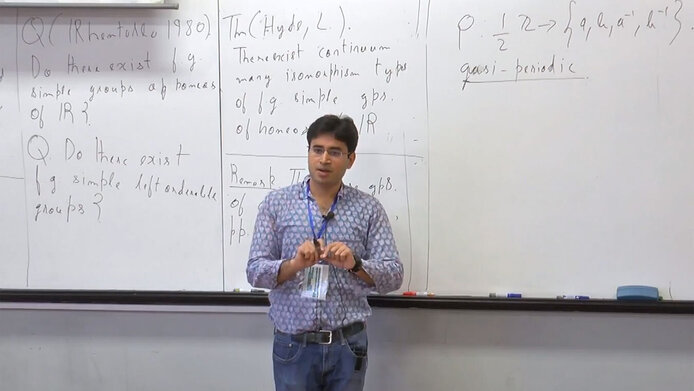 Your research interest is group theory, a field within mathematics. Can you give a brief description of your field?
Yash Lodha: You could describe a group as a mathematical abstraction of symmetries. Thanks to symmetry, a physical object may be rotated in a three-dimensional space, or it may be reflected. The structure of the object, properties such as length or the object's angles, do not change in this process, even if a sequence of several symmetry actions is performed, or if symmetry actions are reversed. All of this can be described by means of algebra – as what we call a group. Groups can be characterised as having a finite number or an infinite number of symmetries. Group theory has a long history. But not until the 20th century did researchers understand that group theory can also be used to gain a better understanding of geometrical questions.
Which answers do you hope to find through your project?

Lodha: Group theory is a central research field within mathematics today, and one that has many applications, for example in computer science, cryptography or in physics. Whenever you model a physical system, symmetries will appear. As a theoretical mathematician, however, I try to see groups as purely mathematical objects, and I aim at making progress regarding fundamental questions. At the same time, I want to find examples of new groups that have not been considered possible until now, and which have interesting characteristics. I want to develop a better understanding of the symmetries in groups by studying the relationship between the structure of space and the algebraic structures. In other words, you can view the symmetries as dry algebraic theory, or you can visualise them graphically as objects and spaces. My research field straddles these two worlds.
Personal details
Yash Lodha, who was born in India, earned a doctorate in mathematics at Cornell University, USA in 2015. After postdoc studies at EPF Lausanne in Switzerland, Lodha served as principal investigator in an "Ambition" research project of the Swiss National Fund SNF and was Research Fellow at the Center for Mathematical Challenges at the Korea Institute for Advanced Study in Seoul. His scientific achievements include the development of a new approach towards solving the Neumann Day problem for finitely presented groups, which he published in 2013 together with his colleague Justin Tatch Moore.