Eavesdropping on courtship messages
Biology and Medicine
November 15, 2021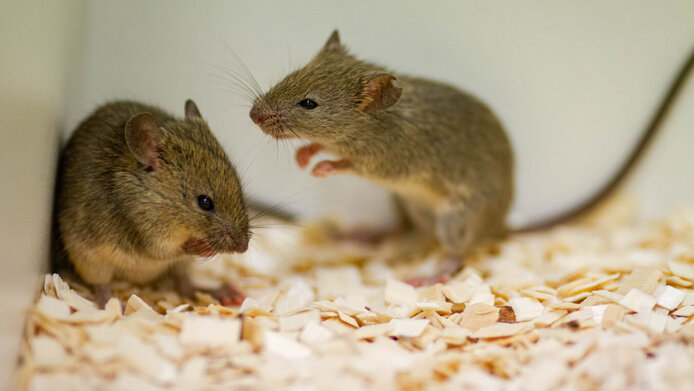 Some animals break into song to woo a mate: even whales do so underwater, inaudible for us. The great variety of early-morning birdsong is far more obvious. And now we know that even male mice can do more than just squeak. Many years ago, researchers at the Konrad Lorenz Institute were among the first to record ultrasonic calls of laboratory mice during courtship and mating, which is inaudible to humans. It has been known for about 15 years that these sound sequences are similar in complexity to birdsong. In fact, the ultrasonic vocalisations (USV) of mice even sound not unlike birdsong when slowed down enough to become audible, explains Dustin Penn from the Konrad Lorenz Institute of Ethology at the University of Veterinary Medicine Vienna (VetMed). In collaboration with Sarah Zala and VetMed students, Penn conducted initial studies with wild house mice, which gave rise to a research project funded by the Austrian Science Fund FWF. The objective was to understand the behavioural function of the USVs.
So as to be able to work with wild house mice in the first place, the researchers first had to capture parent animals in stables. Their research work was subsequently conducted with the offspring in order to control the conditions and to be able to keep track of parameters such as age and relationship. It is difficult to coax a wild house mouse into a singing mood, notes Dustin Penn. Important findings in this regard were collected during the research project.
Automating audio analysis
The team recorded the USVs of male mice, characterised them and played the recordings to female mice, observing their behaviour and mating success. One important finding of these "eavesdropping campaigns" in the service of science is that male mice can be identified by their vocalisations. In these studies, females were found to be more attracted to males of their own species and to the calls of unrelated males than they were to those of their own brothers. In order to explore how the USV messages work and what their purpose is, the normally inaudible mating calls first had to be reliably recorded and then analysed in an automated process.