Does alcohol damage young bones?
Biology and Medicine
February 12, 2018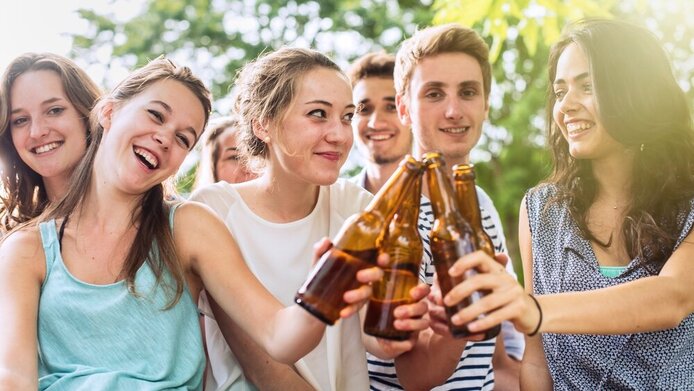 If you drink alcohol regularly and over a long period of time, you will not only damage your organs but also do harm to your bones. Alcoholism has been proven to constitute a risk factor for osteoporosis, as it leads to a decline in bone mass and a general deterioration of bone metabolism. A pilot study conducted at the Medical University of Vienna suggests that excessive consumption of alcohol, also known as binge drinking, has a negative impact on bone tissue in young people. Anyone who consumes alcohol regularly and in excess during their youth could be doing lasting damage to their bones even before the peak of bone mass is reached at around the age of 20. At the University of Veterinary Medicine, Vienna, the study's cooperation partner, young pigs were given a mixture of alcohol and apple juice commensurate with their body weight twice a week. A second control group received only apple juice. The research team led by Peter Pietschmann took blood serum samples at different points in time and determined various markers for bone and muscle metabolism.
Alcohol diminishes bone formation
In a second step, the researchers examined the pigs' bones two months after the experiment had begun and identified changes caused by alcohol. "Our results may suggest that bone formation processes are reduced", explains Peter Pietschmann in the interview with scilog. For their tests, the scientists took bone samples from body parts susceptible to fractures. They checked the samples under a microscope and by means of microcomputed tomography in order to analyse bone structure, renewal processes and the bone cell count. The investigations also included blood sampling and histological examinations at the Institute for Pathophysiology and Allergy Research (IPA) at the Medical University of Vienna. In addition to changes in the bones, the blood samples also showed diminished levels of phosphorus and calcium, which is a typical change that also occurs in humans as a result of alcohol consumption.
Long-term consequences of binge drinking
The findings give Pietschmann reason to believe that binge drinking also has long-term effects on bone function in humans. "If we find further evidence for our hypothesis that bone formation is diminished by drinking, this means that the bone mass of young people who have a drinking problem will not be able to develop normally." This might lead to an elevated risk of osteoporosis occurring in later life.
Immunological implications
Pietschmann is already planning a follow-up project to build on the existing findings and gain further insights. "We have now established the investigative technique, which is an important result of our pilot project", notes the specialist for pathophysiology and rheumatology. In his study of bone diseases, the researcher is also interested in establishing connections between bone metabolism and the immune system, and he considers the relatively new discipline of osteoimmunology to be of growing importance. According to Pietschmann, inflammatory processes occurring in the liver as a result of chronic alcohol consumption may have an additional impact on the bones, since almost all inflammatory processes are also associated with bone resorption.
---
Personal details Peter Pietschmann is a specialist in bone pathophysiology at the Medical University of Vienna, where he heads the "Bone Research Group" with a focus on osteoimmunology at the university's Institute for Pathophysiology and Allergy Research.
---
Publications
Meshcheryakova A, Mechtcheriakova D, Pietschmann P. Sphingosine 1-phosphate signaling in bone remodeling: multifaceted roles and therapeutic potential. Expert Opinion on Therapeutic Targets 2017 http://doi.org/cjzd
Föger-Samwald U, Vekszler G, Hörz-Schuch E, Salem S, Wipperich M, Ritschl P, Mousavi M, Pietschmann P. Molecular mechanisms of osteoporotic hip fractures in elderly women. Experimental Gerontology 2016 http://doi.org/f76b2k
Pietschmann P, Mechtcheriakova D, Meshcheryakova A, Föger-Samwald U, Ellinger I. Immunology of Osteoporosis: a Mini-Review. Gerontology 2016 http://doi.org/f3s4vb