Nature and Technology
December 9, 2020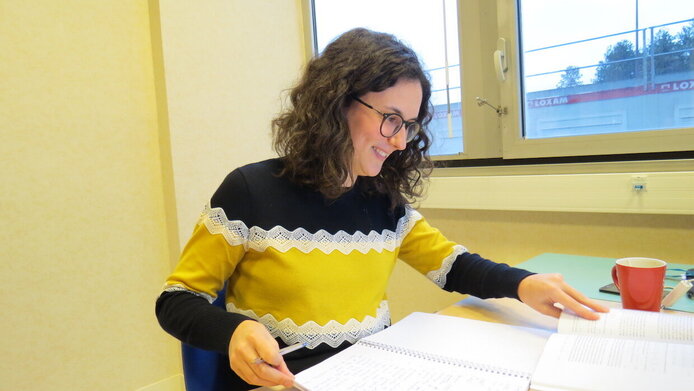 I took the decision to go abroad during my doctoral studies, which I completed in the summer of 2017 at the Vienna University of Technology (TU Wien). I had no problems choosing the location and host research institution: on the one hand, the École Polytechnique and the research group of Silke Biermann, head of the Centre for Theoretical Physics, offered me an excellent scientific environment for my research project, and on the other, of course, I saw no harm in spending a few years in Paris. Thus in September 2017, after almost 10 years in Vienna and the somewhat complicated closing-down of my flat there, I left for Paris with a suitcase and a backpack. This was a while back now, and I have settled in very well here in France.
Fascinating pigments
There is no doubt that my Schrödinger research project offers me the opportunity to broaden my research horizon. I spent my doctoral studies at the TU Wien enthusiastically exploring theoretical methods to simulate material properties such as magnetism on the computer. Here in Paris I have now discovered my fascination for a very diverse range of materials, including new permanent magnets for the engines of electric and hybrid vehicles or the brilliant pigment materials whose colour and optical properties I am now investigating in my project. I am thoroughly intrigued by being able to compute tangible properties such as colour by starting from the elementary components of materials – electrons and atoms – and their quantum mechanical interaction.
At the centre of science
Another beneficial factor that contributes to the success of my research is that here in France I am collaborating directly with solid state chemists and materials science researchers who produce the colour pigments in the laboratory. What is more, I am right at the centre of France's research world here at the Plateau de Saclay – Europe's Silicon Valley – which is about 20 kilometres south of Paris and the home of the École Polytechnique as well as of numerous other research institutions. This place offers countless opportunities for scientific exchange, collaborations and seminars.
Discovering Paris and learning French
Life in Paris is of course a wonderful experience. There is always something new to discover and so many things to do: attending one of the many cultural events, going to museums to admire antique pigments, artistic ceramics or the works of the French Impressionists, strolling through the beautiful parks and streets or sitting in one of the countless cafés and restaurants. Not the least benefit of my stay is that I now speak French fluently.
Regrettably, my time here is now coming to an end and I will soon return to the TU in Vienna to continue my research project there. But the scientific collaborations I have established here and the experience I have gained will stay with me. In any case, I am extremely grateful to the FWF for enabling me to do this.