Climate change and its consequences – our responsibility?
Culture and Society
November 24, 2021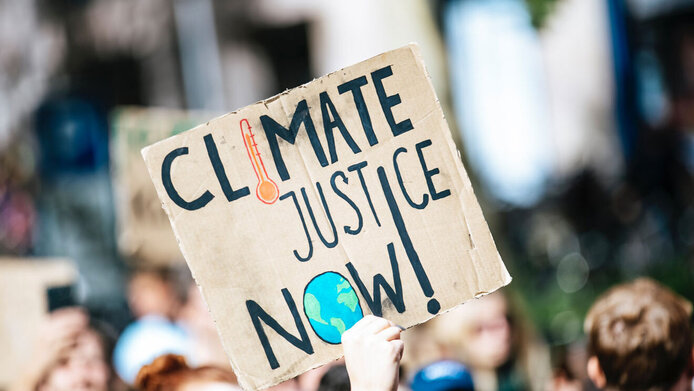 There is broad agreement that everybody, from big corporations to individuals, has a responsibility to contribute to the prevention of dangerous climate change. I subscribe to this view, too. But what does this mean from the perspective of an ethicist? Let me begin by emphasising that considering an issue from an ethical perspective does not mean pronouncing moral judgements, much less moral prejudices. Ethical thinking is not moralising. The point is rather to analyse moral judgments and arguments and examine their plausibility.
My thoughts are premised on the goals set by the Paris Climate Convention, which were reaffirmed at the recent conference in Glasgow. The central targets are net zero emissions by 2050 and a limitation of the global carbon budget so that global average temperatures will not rise by more than 1.5 degrees Celsius or can be expected with a high degree of certainty to remain far below 2 degrees, so that catastrophic climate change may yet be averted.
Dividing up the global carbon budget – either by uniform per-capita distribution or by contraction and convergence – yields carbon budgets of varying sizes which countries or regions must manage to get by on as of 2050. What is even more important than choosing between the two distribution methods is how the results are interpreted, as recent interdisciplinary studies of the University of Graz and IIASA has shown. The most important point here is whether past emissions since 1990 are taken into account. The size of a national carbon budget determines which options the country in question will have for the transformation to net zero emissions by 2050 and how high the costs of this transformation will be.
Drastic reduction of global emissions is needed
But it remains uncertain whether the Paris targets will be reached in Europe and globally. There are many who believe that the chances are slim. For one thing, sum total of the national commitments that have been made is not enough. And apart from there being little reason to believe that nations will amend their commitments sufficiently, promises to reduce greenhouse gas emissions are the very thing they have often failed to act on in the past.
Personal details
Lukas Meyer, a philosopher from the University of Graz, is one of the first authors from his field who has contributed to an IPCC (Intergovernmental Panel on Climate Change) assessment report. The main focus of his work is social justice as it relates to climate change.
Lukas Meyer is co-spokesman of the "Climate Change Graz" research focus and head of the doctoral programme on "Climate Change – Uncertainties, Threshold Levels and Strategies", in which excellent young researchers from all over the world engage in interdisciplinary collaboration with the support of FWF funding.