Culture and Society
June 13, 2019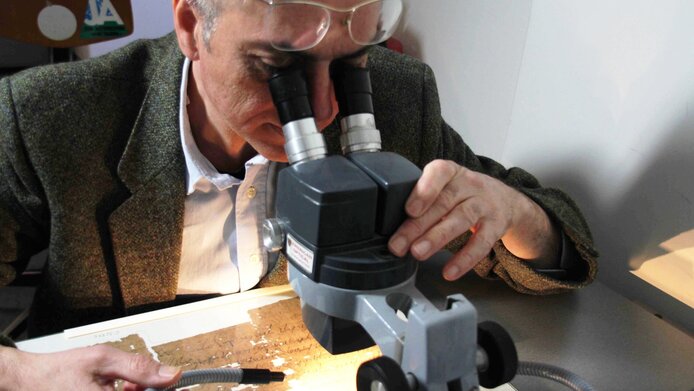 In the 1880s, a Viennese dealer in carpets and works of art discovered old papyri on the antiques market in Cairo, which came from ancient rubbish heaps, and he sent some of them to Vienna. Joseph von Karabacek, then Professor of Oriental History at the University of Vienna and Director of the Court Library (now the Austrian National Library), recognised the importance of these snippets of paper. Archduke Rainer, a patron of science, bought as much of the material as he could and presented the collection to Emperor Franz Josef for his birthday in 1899. So it was originally a matter of chance that Vienna became the centre of papyrus research.
Gigantic jigsaw puzzle
Today, 180,000 papyri from Egypt from the time between 1,500 BC and 1,200 AD are stored in the basement of the National Library behind several alarm-secured doors. They contain texts from daily life: administrative correspondence, invoices, leases and marriage contracts, as well as private letters; only a small proportion are literary texts. This is the largest papyrus collection in the world. Restoring them and exploring their contents is a time-consuming process — a gigantic jigsaw puzzle for researchers. In 1997, the papyrologist and director of the papyrus collection Bernhard Palme and his team were able to sift through more than 60,000 papyri and build up the collection at the Hofburg with funds from the FWF's START Award.
Sensational finds
Time and again, the researchers made sensational discoveries. The papyrologist Federico Morelli, then a member of Palme's team, found a complete dossier – letters between senior administrative officials from Egypt's early Arabic period. The texts tell us about the time when power on the Nile passed from the Byzantines to the Arabs. Until 30 BC, Egypt was a Greek dynasty. It was subsequently conquered by the Romans and remained part of the Byzantine Empire until the invasion of Arab troops in 639 AD. Until that time, the official language was Greek.
Pragmatic conquerors
From the first one and a half centuries of Arab rule, a large number of Greek texts have been preserved on papyrus. The texts examined by Morelli show that the Islamization of Egypt took place very slowly and was not achieved by brute force. For a long time, Christianity remained the religion of the vast majority of the population. The new rulers avoided clashes, took over the very well-organized administration and accorded their subjects a great deal of freedom. "That was a very pragmatic approach," says Morelli. The most recent official document from Egypt, written in Greek and discovered by the native Italian, dates from 796 AD and was written long after the conquest of Egypt by Arab troops. "Until the end of the 7th century, most texts were written in Greek, which means there was no attempt on the part of the Arabs to impose their own language," reports the researcher.
Arab conquerors: tolerant rulers?
The texts convey a great deal of information about the relations between indigenous Christians and Arabs. "Religion hardly ever comes up, though. Islamization took place late and at a slow pace. People more likely converted for fiscal than for religious reasons, because Christians and Jews had to pay higher taxes. Were the Arab conquerors tolerant rulers, then? "From my point of view, they were," Morelli concurs. "The papyri do not present a negative image. Living together seems to have worked well." What can this mean for views on today's Islam? "That's a delicate question," the scholar says cautiously. "If you create a picture in which the Arabs are drawn too positively, some people may dislike it. I read and interpret the texts, but I don't make value judgements."