Will the wasps be able to stand the heat?
Biology and Medicine
March 15, 2021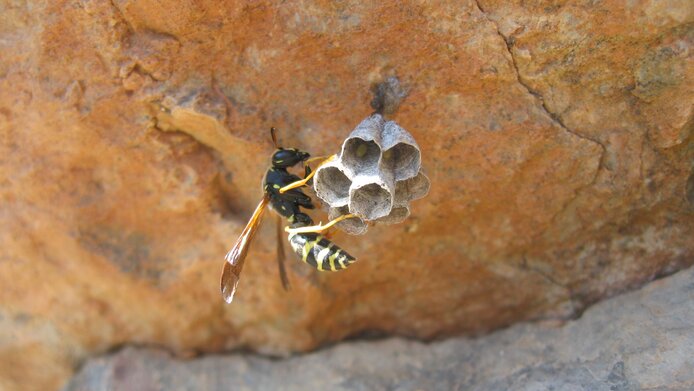 It was in 2019 that the topic started to be discussed in the public arena: international studies reported an unprecedented global extinction of insects. On average, the number of insects is dropping by almost ten percent per decade, and up to 40 percent of species could become extinct within the next few decades. There are many reasons for this phenomenon. Land use and the use of pesticides are important factors, but the exact nature of the mechanisms is still poorly understood. In particular, there is still a lack of clarity about how insects react to the rise in temperature caused by climate change. In a project funded by the Austrian Science Fund FWF, a group headed by the biologist Helmut Kovac has now examined in greater detail the energy metabolism of several wasp species as a function of ambient temperature.
Wasps as a model
The Graz-based team is focusing on the paper wasp (genus Polistes), which is well suited as a model organism, according to principal investigator Kovac: "In contrast to the common wasps we all know, paper wasps build relatively small nests with a maximum of up to 100 individuals. The nests have open combs, which makes them easy to observe for behavioural studies." Paper wasps are also special in terms of regulating their body temperature. While a distinction is made in vertebrates between warm-blooded and cold-blooded animals – endotherms and ectotherms – there is not such a clear dividing line in insects. "Paper wasps are a kind of intermediate stage among insects. Bees are able to actively raise their body temperature to up to 45 degrees. Paper wasps, on the other hand, are ectotherms most of the time, but are indeed capable of raising their body temperature when flying, foraging or attacking enemies," Kovac explains. This property recommends them for research into various aspects of body temperature regulation.
Wasps with different habitats
For their research, Kovac's team selected three of the approximately 15 European species of paper wasps. "All of these species originally came from the south, from warmer regions," Kovac notes. The most widely known among them is the European paper wasp, Polistes dominula, which is very common in our country and very adaptable and has also been distributed to other continents, where it spreads invasively. "In addition we investigated a sister species, Polistes gallicus, whose distribution is restricted to the Mediterranean region," Kovac elaborates. The third species chosen was a mountain wasp that only lives at altitudes above 1000 metres and is also related to the others.