What ultrasound can tell us about the forest
Biology and Medicine
March 20, 2023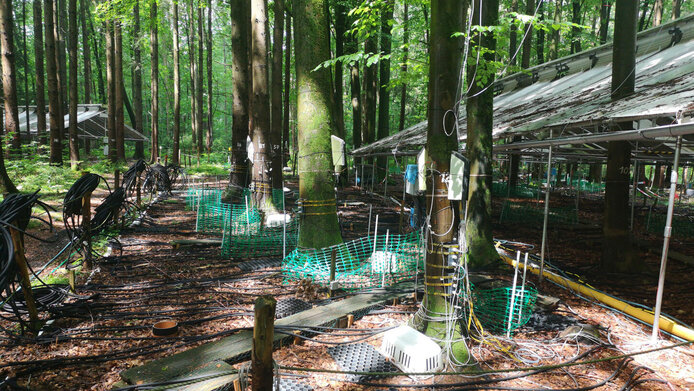 "We want to know how beech and spruce trees respond to droughts becoming more frequent and more intense because of climate change – and whether the trees can recover once water is available again," explains Barbara Beikircher from the University of Innsbruck. This biologist is conducting research at a special place – the "Kranzberg Forest" north of Munich Airport.
Her research is part of the Kranzberg Roof Experiment (KROOF) – a broad-based research project initiated by scientists at Helmholtz Zentrum München and Technische Universität München in 2010. International researchers are investigating how forests are coping with drought stress. The Austrian Science Fund FWF funded Barbara Beikircher's sub-project "Drought acclimation and recovery of beech and Norway spruce", which she is conducting with her project partners Rainer Matyssek and Thorsten Grams from the Technische Universität München.
In the forest, which was formerly exploited commercially, the researchers selected twelve subplots with 70 to 90 year old beech and spruce trees. Waterproof tarpaulin was used to surround each of these plots to a depth of up to one meter and automatic roofs kept water off the ground on six of these subplots between 2013 and 2019. In the summer of 2019, all roofs were opened and all plots were irrigated. Researchers also had a crane that gave them around-the-clock access to the tree canopies in the respective subplots. "There are very few places in the world where you can do research like this," says Barbara Beikircher.
How does a tree die of thirst?
Trees absorb water through the roots and transport it to the leaves via the trunk. The leaves have small narrow openings, or stomata, and if these are open, the tree can absorb CO2, and water can evaporate at the same time. "In simple terms you could say that, when exposed to drought stress, the tree is always either starving or dying of thirst. If the stomata are closed, it will starve. If they are open, it will die of thirst if not enough water comes in through the roots," Beikircher explains.
The strong adhesive forces between the individual water molecules ensure that water rises from the roots to the leaves, propelled by the evaporation on the leaf surface. This transport occurs in the tree's wood, the xylem, which is composed of many lignified, elongated cells called tracheids and tracheae. In the case of spruce, these conducting vessels are only a few millimeters long and a few micrometers thick. They run upward parallel to each other and are interconnected.