Social contact encourages protests against deportation
Culture and Society
February 26, 2018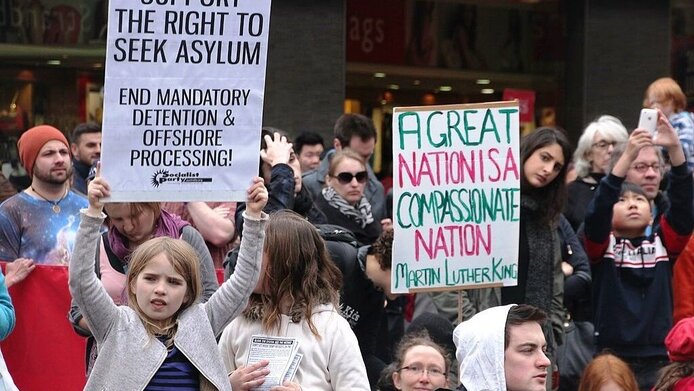 Marcus Omofuma (1999), the Zogaj family (2007) and the Komani twins (2010): in Austria, the "cases" behind these names are inextricably linked with political decisions, state constraints and dramatic human fates in the context of asylum and deportation procedures. The fate of these individuals, who wanted to stay in Austria, motivated many people to protest. In addition to large-scale rallies, a great number of small local protests have been successful in preventing an asylum-seeker's deportation following a negative asylum decision. With support from the Austrian Science Fund FWF, a research team led by Sieglinde Rosenberger investigated civil society protests. "In political terms, asylum and deportation are highly controversial issues, and they polarise society. The study explored how political-administrative decisions can inspire protests in this context, what methods protesters use and what the consequences and outcomes of their actions are", explains the political scientist from the University of Vienna. The transnational study Taking Sides was carried out between 2013 and 2017. It covers a period of twenty years (1993-2013) and compares Germany, Austria and Switzerland.
Surrogate resistance
1993 was chosen as the starting point of the long-term investigation because all three countries made substantial changes in their asylum regulations during that year. Protest research is not only interested in the conditions and forms of protest, but also in its goals and results. The teams at the University of Vienna, the Université de Neuchâtel (CH) and the University of Osnabrück (GER) found out that protests against asylum and deportation policy decisions were mainly launched by people who had not been politically organized or engaged in politics before: "We call them protests of solidarity because people take to the streets as surrogates, to speak out for disenfranchised individuals with whose fates, faces and voices they are familiar", says Sieglinde Rosenberger. The protesters are less concerned with party politics or their own benefit than with solidarity, justice and humanity. "We found that protests were particularly likely to start when people had social contacts and relationships with those who faced deportation", notes the political scientist. <iframe src="https://www.google.com/maps/d/embed?mid=1Ejad4BP8jaCoOAoQkuvQootCVrM&hl=de" width="640" height="480"></iframe>
The project mapped protests against deportation in Austria. Pin colour is indicative of the outcome: green pin = deportation was stopped, red pin = deportation was carried out, blue pin = outcome unknown.
Seizing opportunities for political interventions
"Political opportunity structure" is the name of a theoretical model widely used to explain the emergence of protests. The FWF-project Taking Sides also investigated which structures and institutions promote or hamper "grassroots action" outside the parliamentary sphere. Since 1945, Austrian politics and society have been dominated and organised by political parties; civic engagement in politics is rather muted as compared to Germany and Switzerland. "The theoretical approach helped us to see why protests involving concrete cases of policy enforcement are more frequent in Austria than protests against laws and regulations. Our study shows, however, that the existence of structures is not sufficient to trigger such protests", says the principal investigator. Interviews with protest participants revealed that notions of justice, humanity and fairness play an important role and that the act of protesting channels feelings of anger, disappointment and frustration. The situation is different in Switzerland, a country with a high level of direct democracy, where the population is habitually involved in decision-making to a much greater extent. In Germany, the protests were more activist in nature, supported by organisations (e. g. NGOs) and linked to political demands. In Austria, "we found that the focus was very much on individual cases. Most of the time, the protesters did not make any general political demands, but just wanted to prevent the deportation of certain individuals", explains Rosenberger.
Individual cases are often successful
It was precisely this type of protest that often achieved its goal: compared with other policy fields and protest formats, local protests are inclined to be more successful. Sieglinde Rosenberger assumes that the commitment of previously "inconspicuous" citizens, not known for any particular party allegiance, is an important factor here. This said, large-scale rallies in Austria have also been known to result in political measures, such as granting a right of residence. In Germany, where protests are more activist in nature, however, clear-cut success was less frequent.
A 'like' is good – taking to the street is better
As soon as social media started to become widely used, they helped to mobilise people and share information. For a protest to be successful, however, it was not enough for people to like it on Facebook. It was the physical presence that counted: confronting the mayor or law enforcement officers in a non-violent way, if need be in the middle of the night. "The direct and immediate form of protest, for instance in the street and in front of living quarters, is a strong instrument of participation", emphasises Sieglinde Rosenberger. The political scientist thinks the current situation again harbours some potential for resistance: many asylum applications pending since 2015 are currently being brought to a conclusion, and some of the people who applied for asylum in Austria are still being looked after by refugee support groups - i.e. by well-connected people.
---
Personal details Sieglinde Rosenberger has been a Professor of Political Science at the University of Vienna and Vice Dean of the Faculty of Social Sciences since 1998. She conducts research on inclusion and exclusion in the context of migration, Austrian politics and Europeanization, as well as political participation. She heads the research group "INEX - Politics of Inclusion and Exclusion" and is the deputy spokesperson of the platform "Religion and Transformation in Contemporary European Society". In 2018, she joined the Council of Experts of German foundations for migration and integration (SVR).
---
Project homepage: https://inex.univie.ac.at/research/taking-sides/
---
Publications
Rosenberger, S., Stern, V. and Merhaut, N. (eds.): Protest Movements in Asylum and Deportation Policies, IMISCOE Research Series, New York et al.: Springer 2018
Rosenberger, Sieglinde, Schwenken, Helen, Merhaut, Nina & Kirchhoff, Maren: Abschiebe-Protest-Kulturen: Abschiebungen als Konfliktfeld in Deutschland und Österreich zwischen 1993 und 2013. In: Leviathan 45. Jg., Sonderband 33, Protest im Wandel, 2017