Biology and Medicine
June 1, 2014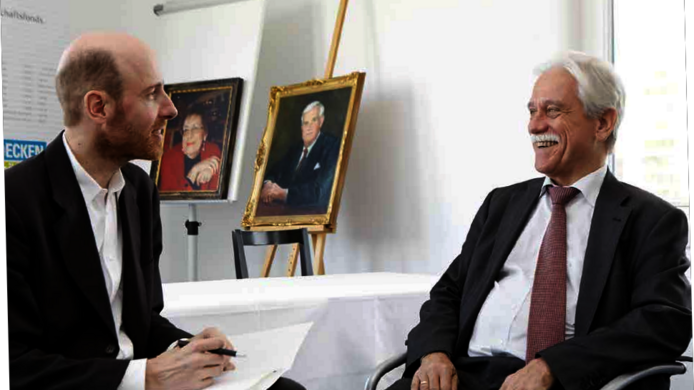 FWF: Mr. Bauer, you were Curator of the Weiss Science Foundation, which came into legal existence on 4 June 2014. You look satisfied and relaxed. Is that how one feels as a patron?
Rudolf Bauer: I am not a patron but just Curator of the Foundation and now member of the Board of Directors, but I'm really satisfied and relaxed right now! I had the good fortune to have known two wonderful people – the two founders – who were really impressive personalities. I am connected to them with a lot of pleasant memories. Being a long-standing friend and confidante of Vera Weiss, she requested me – a few months before her death – to ensure that her will would be fully executed. I took this promise very seriously and – since her death on 13 April 2013 – made intensive efforts to execute the testamentary clauses of the deceased as carefully as I could. Some of it was pretty hard work. But now the Foundation's statutes have been approved, the Foundation has been constituted in a legally valid manner, and I am sure all efforts have been made to ensure that the purpose of the Foundation can be fulfilled optimally and sustainably.
FWF: Could you briefly explain the testamentary mandate?
Bauer: It can be easily gleaned from the resumes of the two founders. Both of them started their professional career from the lowest rung of the ladder during the difficult post-war period, and made it to the top because of their immense enthusiasm and great personal commitment. Gottfried Weiss had a PhD in meteorology. After a successful career as a public official in Vienna he became the head of the WMO – the World Meteorology Organisation in Geneva – a special organisation of the United Nations. One of the tasks of this organisation is to promote research and training in meteorology and associated fields of science, and to actively contribute to the coordination of international aspects of such research and training projects. Vera Weiss served for several years as head of the department of anaesthesiology in the Gynaecology Clinic at the Cantonal Hospital in Geneva, which was one of the most renowned hospitals in the world at the time. Working with patients was of prime importance to her, but she still remained closely connected with research.