How spruce meets bark beetle
Biology and Medicine
February 28, 2022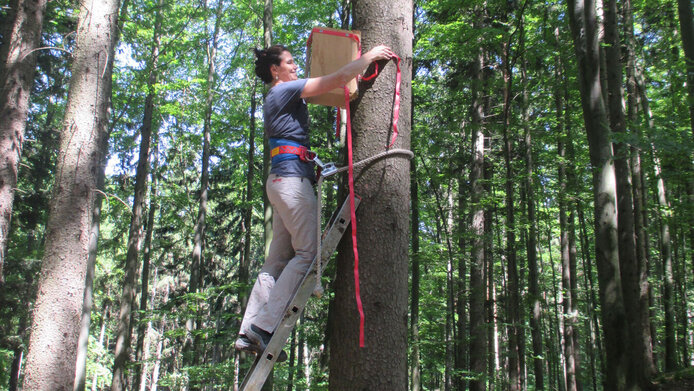 It is fortunate that Sigrid Netherer's field-test area was located in the teaching forest of the University of Natural Resources and Applied Life Sciences in the border region between Lower Austria and Burgenland. There is no-one around to complain when this forest entomologist (i.e. specialising in the entomology of beneficial insects and pests in forests) builds roofs over trees for testing, attaches infestation boxes or shoots branches out of the treetop at dawn with a shotgun. It's all in the service of science. In addition, the highland forest is managed in a textbook manner as a mixed forest, which keeps a massive spread of the Eurasian spruce bark beetle (Ips typographus) at bay. For her FWF-funded Elise-Richter project, Netherer compared ten spruce trees shielded from precipitation by roofs with ten control trees over two seasons, and she also took bark beetles from the breeding facility in the basement of the University of Natural Resources and Applied Life Sciences out into nature. An elaborate test set-up and the very committed team at the Institute of Forest Entomology, Forest Pathology and Forest Protection (IFFF) made it possible to obtain the first empirical proof that drought-stressed spruce trees are indeed particularly attractive for bark beetle pioneers, i.e. for the first males that scout the tree.
Well-adapted and known from old
Observations reveal that the spread of spruce bark beetle, the most important pest infesting spruce trees, is favoured by the increasing heat and dryness of human-made climate change and that several beetle generations develop within a single year. "Publications more than a century old already contain the observation that dry and warm periods promote the beetle's mass reproduction," notes Netherer. While there have been observational and modelling studies that match climate data and quantities of damaged wood, studies that establish connections between what happens in the tree, the behaviour of the bark beetles and the fungi with which they live in symbiosis are few and far between. In a previous FWF-funded project, the entomologist already examined individual trees, tested procedures for modelling drought stress, and developed the system of infestation boxes to observe the behaviour of bark beetles on trees. In her current project, which will lead to her professorial qualification, Sigrid Netherer is now working on the following questions: What changes in the tree's biochemistry and physiology does drought stress produce? What influence does this have on the tree's defence behaviour? How attractive do bark beetles find stressed trees? And how well can spruce trees defend themselves against the blue stain fungi that live in symbiosis with the spruce bark beetle?