Here's a tobacco plant that saves lives
Biology and Medicine
January 25, 2022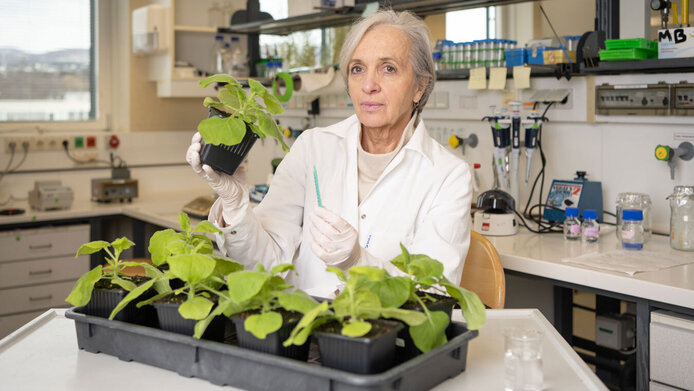 Its leaves are medium size and light green, it arrived in Europe in the 15th century and it is related to the potato and the tomato. At Vienna's University of Natural Resources and Applied Life Sciences, this nightshade plant is kept in a so-called "climate chamber"–- at 60 percent humidity and a constant temperature of 22 degrees. These are optimal conditions for Nicotiana benthamiana, a tobacco plant. "Smoking kills" says the warning label on many a cigarette packet. In the way Herta Steinkellner uses it for science, the opposite is true: this tobacco plant can save lives! It produces highly effective human antibodies against diseases such as cancer, Ebola and – most recently – Covid-19.
Genetically modified tobacco plant
Nicotiana benthamiana has to be genetically modified to make it produce foreign proteins in addition to its own. These include antibody proteins that are normally produced in the human body as a reaction to pathogens. The method involves introducing the genes that contain the blueprint for human antibodies into the plant. "We do this by using a bacterium as a kind of taxi. The plant then uses this blueprint to assemble the specific human proteins," explains Herta Steinkellner. In this way the plant can produce antibody proteins that can subsequently be used as medicines for humans.
Personal details
Herta Steinkellner is a professor at the Department of Applied Genetics and Cell Biology at the University of Natural Resources and Life Sciences (Boku) Vienna. After graduating in biology from the University of Vienna, she completed her doctorate and professorial qualification in molecular biology and genetics at the Boku. From 2010 to 2017, she headed the Laura Bassi Centre of Expertise "Plant Produced Proteins" in Vienna. Research stays and visiting professorships have taken her to the UK, the USA and Japan.