A tale of fake plumage and immaculate cookbooks
Culture and Society
January 3, 2022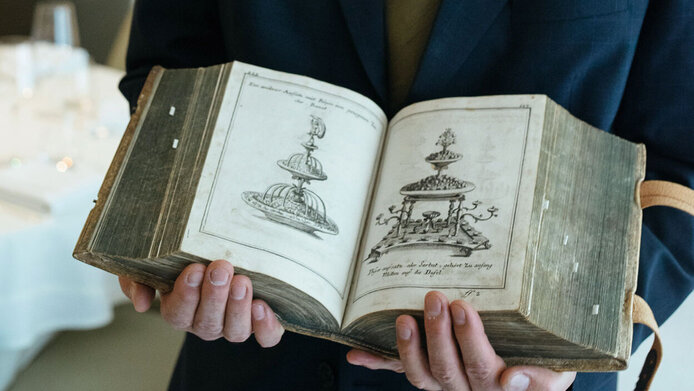 It is not only the contents of the baroque cookbooks in the Salzburg Provincial Archives that are surprising, but also the pristine state they are in. No grease stains, no dog-ears, no notes or favourite recipes where they immediately fall open. Until recently the head of the Gastrosophy Centre at the University of Salzburg's History Department, Gerhard Ammerer knows why they are so well preserved. Between 1500 and 1800, cookbooks were still expensive representative objects. It took some wealth to be able to afford Conrad Hagger's Neues Saltzburgisches Koch=Buch (New Salzburg Cookery Book), which dates back to 1718/19 and contains around 2500 recipes and 318 copperplate engravings. The only recipes that were written down concerned meals for festivities, and these were recorded for culinary professionals: "There was most probably a discussion about what was to be put on the table for the respective occasion, and perhaps the cook and the lady of the house browsed the volume, and afterwards it was put back in the bookcase." For a team led by Gerhard Ammerer, many years of research into the history of food in the Prince-Archbishopric of Salzburg culminated in the project "Food tradition and cultural transfer in Salzburg. The Example of the Prince-Archiepiscopal City of Salzburg, 1500–1800".
Good sources across all strata of society
For this medium-sized town in the early modern period, the researchers succeeded in tracing what was put on the table and how food was obtained and distributed – across the board from the archiepiscopal residence to taverns and inns and soup kitchens for the poor. Ammerer notes that there are excellent sources for all social strata. Being an economically important household, buyer, employer and benefactor, the Prince-Archbishop's court has furnished the richest sources. But there is also good documentation about the guilds, the bourgeoisie, the monasteries, as well as poorhouses. Thanks to charity on the part of the church, even poorhouses were able to serve fine venison and beer on church holidays. Cuisine for lent and fasting periods was also sophisticated. After all, fasting was practised on more than 80 days during the year. The menu often featured sweet dishes, but also home-grown turtles.