"The most important thing is to encourage curiosity"
Biology and Medicine
June 29, 2023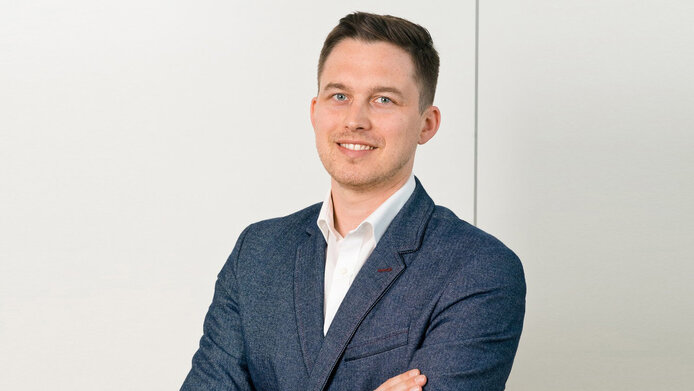 Mr. Winter, our cells need proteins as building blocks. In your research you are not, however, concerned with their production, but with their degradation. Why is that important?
Georg Winter: In biological contexts, the degradation of building blocks is always relevant. Our cells are the venue of a constant synthesis and elimination of fundamental elements. As one of the important building blocks, proteins are degraded in different ways. Some of the mechanisms are strictly regulated in order to be able, for example, to respond to environmental influences. Others operate in the background as quality control mechanisms, for instance when proteins have been produced incorrectly. All these processes are important for keeping cells intact. If degradation is blocked or if the balance is upset by mutations, this will often cause disease, including cancers such as leukemia. Research into so-called "degraders" makes it possible for us to eliminate proteins in a targeted manner, including those that are needed by cancer cells to grow and divide.
How does this mechanism work?
Winter: Basically, the idea is to bring two interaction partners close together: the protein we want removed and the cellular machinery for protein degradation, specifically the so-called E3 ubiquitin ligases. These ligases can then mark the target protein for degradation by attaching to it another, smaller protein called ubiquitin. You can picture it as though the E3 ligases were sticking post-its on the protein that needs to be removed. Once a protein has been marked with three ubiquitins in series – has collected three post-its, if you like – that is the signal for the cell to start degradation. For this reason, ubiquitination is also known as the "kiss of death". With the degraders, we are pursuing the goal of attaching these markers specifically to disease-causing proteins.
What do such degraders look like?
Winter: There are different ways of designing the small molecules that function as degraders. Roughly we can distinguish two groups. One are the so-called PROTACs, which I worked on during my stay as a postdoc in the USA. In their case, the bond between the E3 ligase and the target protein is relatively simple: PROTACs have one binding site for each of the two interacting partners, connected by a linker. In this way they can bind simultaneously to both the target protein and the degradation machinery.
In the case of Proxygen, however, we are interested in the other group of so-called "molecular glue degraders", or molecular glues for short. Their design is a little more complicated because they bind to only one of the two partners and change its surface in the process. If their architecture is designed in the right way, they change the binding site in such a way that the second protein is attracted to it.