The 'gold route' to Open Science
Culture and Society
July 19, 2016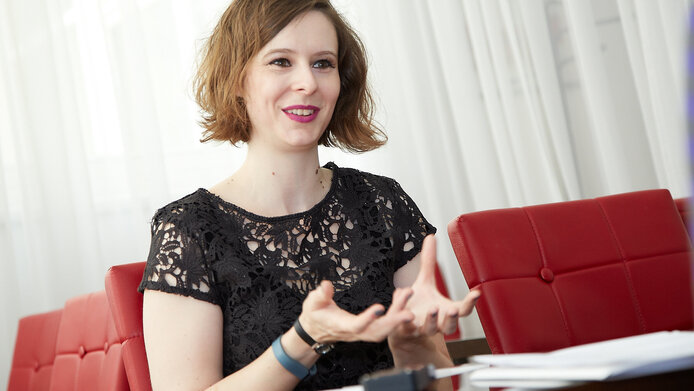 FWF: What was the idea behind the OLH? Caroline Edwards: My colleague Martin Eve and myself set up a small open-access journal of 21st-century literary criticism called Alluvium in 2012. At that time in the United Kingdom it became apparent that researchers were going to have to think seriously about moving towards open access because the government and research councils were adopting a pro-open access policy that would require research outputs to be made available to the general public. From the perspective of researchers working in the humanities in the UK, many scholars had not thought about open access prior to this point. When the Finch Report was published in June 2012 they realised that a mandate was likely to be imposed on them. So it was a very political climate at the time, and many of our colleagues expressed anger that the research councils – via HEFCE (the Higher Education Funding Council for England) – could institute such a mandate without their input. So we set up the OLH because we felt strongly that there was a huge gap in the way in which people talked about open access. And specifically, that the larger publishers were pushing hard for gold open access via an article processing charge (APC) model. But working in the humanities disciplines, which receive limited funding compared with sciences and STEM subjects, it was obvious to us that there was not enough money to support APC-led open access publishing.
---
Publishing Gold Open Access There are multiple ways authors can provide open access to their work. One option is to publish in an open access journal ("gold open access"). The publication is available immediately, with no embargo periods. Usually an open access fee (article processing charge APC) is paid by the authors, or on their behalf for example by their institution or funding body. In contrast to traditional publishing the copyright remains with the author, not with the publisher. The author chooses a Creative Commons license which defines permitted reuse.
---
FWF: So what is the concept of the OLH? Edwards: The starting point for us was to think about the following questions: Could we come up with an alternative model that did not have to use APCs? How would we fund open access publishing without APCs and how could we make the project as international as possible? So the first thing we did in Spring 2013 was to launch a website and invite colleagues from around the world to join a series of committees, composed of high profile open access advocates, scholars, publishers and librarians. Around this time we were contacted by the American philanthropic funding organisation, the Andrew W. Mellon Foundation, who subsequently gave us an initial seed funding grant for one year, followed by a three-year grant which we are now running. That gave us a certain amount of legitimacy as well as media coverage when the full grant was awarded in April 2014. FWF: How does it work?