Culture and Society
June 22, 2023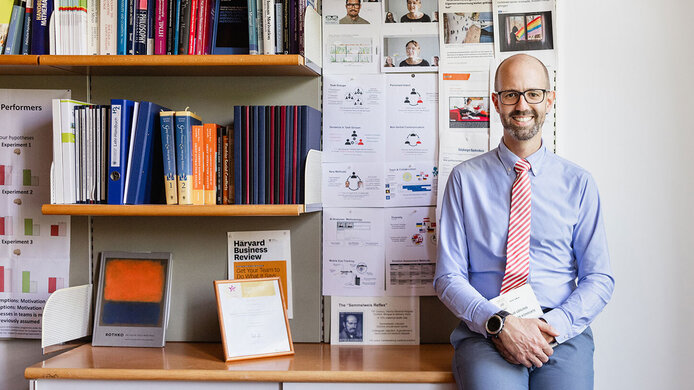 Mr. Thürmer, the catchphrase for your research is working in groups. What answers are you looking to find with your START project?
J. Lukas Thürmer: I am driven by the question of how teams achieve their goals. So far, we have looked at the achievement of goals by individuals or entire groups. Now we will be investigating what happens when individual group members challenge the dynamics of the group. So far, we have not been able to examine these factors comprehensively because we lacked the technical and statistical means. Now, for the first time, it will be possible to precisely model these dynamics within a group.
What situations are of interest to you specifically?
Thürmer: In my research, I study what happens when a group member exhibits deviant behavior that is relevant to the group's performance. We call this "task deviance". I chose three prototypical situations for my START project. The first is when a group member delivers an unexpected performance, such as holding a weight for a very long time. Secondly, I am interested in group decision-making and how people who inject controversial information or preferences impact the process. Third, I plan to examine collaborative problem solving. Here, deviant individuals can be helpful because they bring criticism to the suboptimal approach currently being used to solve the problem.
Why are these tasks in particular relevant to the study of groups?
Thürmer: In each of these three situations, a fundamental goal that we pursue when we form groups is under threat. Individuals who are deviant in their performance threaten the collaborative effort. Those who deviate from a group decision threaten the group members' shared worldview. And those who express criticism present an impediment to generating a positive group feeling, in other words, a positive view of one's group. All of this means that even helpful contributions, information or ideas can go unheeded. My hypothesis is that a group's reaction to deviant behavior depends on how the behavior's intention toward the group is perceived. Basically, does the person in question want to help the group or not?
I would like to use my research to see when people stop being socially mindful.