It's live or let die for proteins – Stockholm in the pandemic
Biology and Medicine
August 16, 2021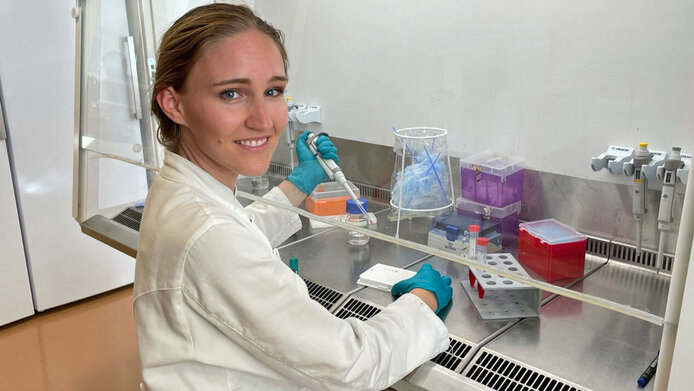 Even at the beginning of my doctoral thesis it was clear to me that I wanted to pursue a career in research, the major goal being to have my own research group at some point in the future. In this context, international experience combined with my own third-party funded research project is of great advantage and improves future competitiveness. This is why I started looking intensively into various opportunities for postdoctoral fellowships abroad in the penultimate year of my doctoral thesis, and I very quickly came across the FWF's Erwin Schrödinger Fellowship.
The greatest challenge for me was to identify a research focus and a host laboratory that was a good fit. While I wanted to be able to use my previous methodological repertoire, what was most important for me was to acquire new scientific skills and a different perspective. Protein homeostasis has always been a topic of interest to me. I am intrigued by the ability of cells to coordinate precisely the production, maintenance and degradation of proteins across organelle boundaries. This prompted me to write a first draft of my project plan, which my visiting professor Claes Andréasson from Stockholm University greatly approved of. Apart from Professor Andréasson's extensive expertise, one of the main reasons why I wanted his support for this project was the interdisciplinary approach of his group. Interpersonal aspects have always been another essential point for me. Especially when times are challenging, it is incredibly important to have a mentor who motivates and encourages you but still provides constructive criticism.
Looking beyond the rim of your tea cup
In the course of my project I use yeast as a model organism to help me understand protein homeostasis and inter-organelle communication in connection with cell ageing. In addition to discussions in the working group, we have regular group meetings, and discussions that go beyond the research focus. This helps me to realign my project and keep it on track and evaluate existing hypotheses. The opportunity to benefit from the knowledge of leading experts has not only helped me make progress in my project, but has also inspired me to broaden my focus.
A crucially important aspect of feeling at home in Sweden was the fact that my partner of many years, who is also a biochemist, accompanied me to Stockholm. As a result, my private life during this period abroad has been pretty much as it previously was in Austria. In order to recharge my batteries after the demanding work at the laboratory, I like to go on long hiking tours. In the summer I combine them with swimming breaks in the countless lakes around Stockholm's Län.
A virus and the crisis
The coronavirus crisis was and still is a big hiatus in my social and professional life. My original euphoria about the project was dampened not only by the required social distancing from work colleagues and friends, but also by the fact that no scientific conferences could be held and that massive restrictions were applied in the laboratory. Accordingly, the possibility of extending my stay by 3 months to make up for coronavirus-related losses has come as a big relief.
All in all, I am very happy to have taken this unique opportunity in Sweden, and saying goodbye to my colleagues here will probably be as difficult as it was a little more than two years ago in Austria.