From cannibal to model father
Biology and Medicine
January 8, 2019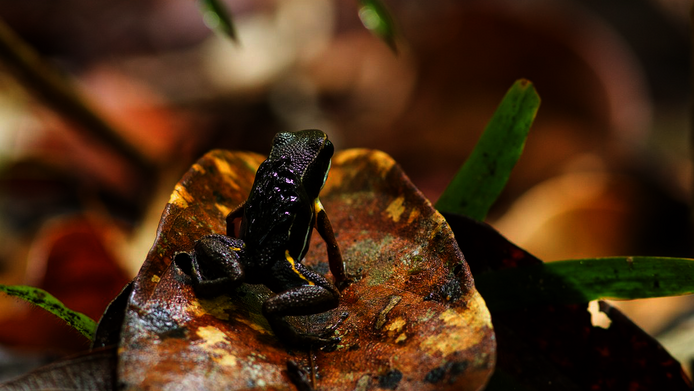 They measure between 1.5 and 6 centimetres in length; their skin is often brightly coloured and poisonous. They live in Central and South America and are very different from the rest of their kind. The creatures we are talking about here are poison dart frogs. Unlike many other frogs, they are active during the day, display highly territorial behaviour and lay their eggs on land. The tadpoles, however, which hatch a few weeks after the eggs have been laid, can survive only in water. The poison dart frogs solve this dilemma - terrestrial egg-laying and aquatic tadpoles – by putting a great deal of effort into brood care: the frog parents carry the freshly hatched tadpoles piggy-back to suitable pools of water - a decidedly atypical behaviour for frogs.
Poison dart frogs are strategic planners
Ever since she wrote her diploma thesis, Eva Ringler has been fascinated by the enormous variety of mating and breeding behaviour shown by this group of frogs. Contrary to the received wisdom that amphibians are highly instinctive, her work has shown that poison dart frogs can engage in strategic planning and flexibly adapt their behaviour to changing conditions. Ringler, a biologist at the Messerli Research Institute at the Vienna University of Veterinary Medicine, is investigating Allobates femoralis, a non-toxic representative within the poison dart frog family with a brown-coloured skin and a light stripe down its sides, which is widespread in Amazonia and the Guyana shield.
Dedicated fathers
With poison dart frogs, it's the ladies who call the shots: The female actively picks her partner by entering his territory, and then permits herself to be courted in a mating ritual of many hours. After laying the eggs, the female leaves the territory and the nest and returns to her previous vantage point. After two to three weeks, when the eggs have developed into tadpoles, it is the task of the male, who weighs only about two grams, to transport them to the water. With the clutch of eggs on his back, he hops through the rain-forest and distributes the offspring over many ponds, sometimes far from the original breeding ground.