Preparing freshwater lakes for global change
Biology and Medicine
June 22, 2021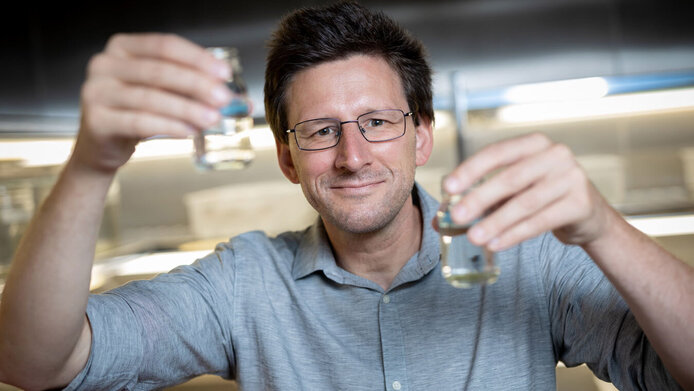 What brought you to research?
Markus Möst: My father taught biology at a secondary school. And I grew up in a small village in the eastern Tyrol region, surrounded by nature. Both these things contributed to my developing a keen interest in nature at an early age. I wanted to study biology as soon as I started going to school. My original plan was to work in applied science, but when working as a lab assistant in Uppsala, Sweden, I changed my mind and moved towards academic research. The START Award helps with getting more established as a scientist and supports me in pursuing my research interests.
Where will your path lead you?

Möst: As in my PhD studies, I work on water fleas and hybridisation – what happens if different species interbreed, giving rise to hybrid offspring. The START project will examine the interaction between this evolutionary change and ecological changes. Such eco-evolutionary dynamics help us understand and predict global change.
What are the additional factors in global change as compared to climate change?
Möst: There are many, including over-exploitation of resources such as fish populations, pollution and habitat destruction. I will focus on two stressors: first, eutrophication, especially in the mid-20th century when raw sewage and untreated wastewater were piped into water bodies. At the time, detergents still contained phosphates, which threw aquatic systems totally out of balance. My second focus is on the ever more massive heat waves and their impact on lakes. These two factors interact.
Personal details
Aquatic ecologist Markus Möst works at the Department of Ecology, University of Innsbruck. An expert in evolutionary ecology, he has researched evolutionary changes in populations of tropical Heliconius butterflies and water fleas. After completing his PhD studies at ETH Zurich, Department of Aquatic Ecology, Möst was awarded an Erwin Schrödinger Fellowship by the Austrian Science Fund FWF, enabling him to continue his research work as a member of the Butterfly Genetics Group at Cambridge before returning to Innsbruck, where he joined the Molecular Ecology Group.